Breast Augmentation
Consultations offered at our four convenient locations in La Jolla, San Diego, Newport Beach and Beverly Hills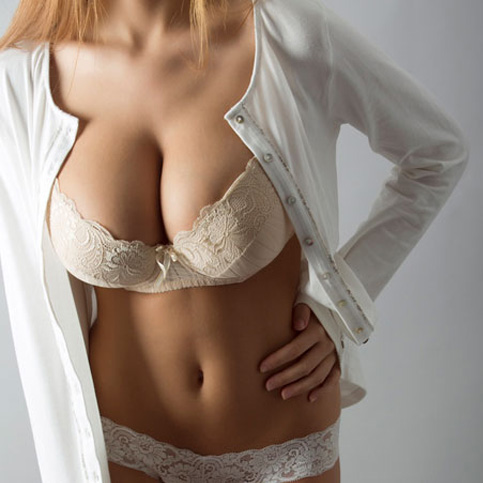 Breast augmentation is a surgical procedure to enhance the size and shape of a woman's breasts. The procedure can also restore breast volume lost after weight reduction or pregnancy, achieve a more rounded breast shape or improve natural breast size asymmetry. La Jolla Plastic Surgery & Dermatology breast augmentation has been critical in helping San Diego women feel curvaceous, feminine, and confident.
Dr. Richard Chaffoo is one of America's few Triple Board Certified Plastic Surgeons and is often chosen by women for breast augmentation in San Diego because he always works to provide the best results possible that look natural while exceeding patients' expectations. To learn more, request your consultation online or call our office at (800) 373-4773.
And be sure to follow our blog to hear about the latest plastic surgery news, tips, and information!
Before and After Photos
Augmenting Your Breasts
If you're unhappy with the size of your breasts, you're not alone. More than 300,000 women in the US get breast augmentations every year [1], often because they feel self-conscious about their breast size. But with the right surgeon, you too can have the beautiful bosom you've always wanted!
Implant Options
Patients who visit Dr. Chaffoo for breast augmentation in La Jolla can choose saline or silicone breast implants. Both types are FDA approved and each has its own benefits.
Saline implants are filled after they are inserted and therefore require very small incisions. The volume can be adjusted after the implants are placed, making them a flexible option. However, this type of implant is more likely to show wrinkling and rippling.
Silicone implants provide a soft, natural-feeling texture that most patients say feels more like natural breast tissue. Dr. Chaffoo offers cohesive gel implants, which are often called "gummy bear" implants. These are the only 5th generation silicone gel implants approved by the FDA.
Gummy bear implants provide an expanded selection of sizes and shapes, and studies have indicated that these implants may provide a superior level of safety and lower incidence of complications. [2]
The silicone exterior of breast implants may be smooth or textured. Dr. Chaffoo utilizes only smooth-surfaced breast implants for all of his patients.
Sizing
Most of Dr. Chaffoo's patients want results that look natural, which means that the size of the breasts is in harmony with their bodies' frames. It's best not to have a specific size in mind because different size implants usually don't look the same on different patients. Dr. Chaffoo accounts for your existing breast tissue when determining implant size or volume, which is measured not by cup size, but by cubic centimeters.
Profile
An implant's profile and size should be considered together. When we talk about the profile of an implant, we're referring to its width and how much it projects from the chest. Wider implants have lower profiles meaning they will be less noticeable when seen from the side. Each implant size comes with different profiles, typically categorized as:
Low
Moderate
Moderate plus
High
Getting the appropriate implant diameter is also important because it helps ensure the implants are in harmony with your body's frame. The correct diameter fits your chest's width and reduces the chances that your breasts will extend too far out into your armpits.
Anatomic vs. Round Implants
Anatomic implants are more expensive than round implants, and they have a higher rate of malposition, requiring revisionary surgery to correct the malrotation.
A recent peer-reviewed journal article asked a group of board-certified plastic surgeons to review the photos of patients who had undergone breast augmentation surgery with silicone implants and indicate whether the implants were teardrop-shaped or round. None of the surgeons could correctly tell which patients had anatomic implants or round implants just by looking as the end result is quite similar in appearance. [3]
Candidates for Breast Augmentation Surgery
The women who visit Dr. Chaffoo for breast augmentation have a variety of personal reasons for considering the procedure. Reasons for choosing this procedure often include one or more of the following:
Increasing the size of naturally small or underdeveloped breasts
Replacing breast volume lost due to pregnancy, breastfeeding, or weight loss
Achieving improved symmetry between uneven breasts
Attaining a more balanced figure
You may even be the perfect candidate for a surgical technique that was developed in Europe which uses your own breast tissue as a natural breast implant to lift and reshape without increasing either volume or cup size. Speak with Dr. Chaffoo about this option during your consultation.
Dr. Chaffoo will support, inform, and guide you all the way, helping you make the right choice for your cosmetic goals, lifestyle, and body type.
Personal Consultation
Your initial consultation with Dr. Chaffoo is a time to share your goals, ask questions, and have your concerns addressed. During this visit, Dr. Chaffoo:
Obtains a complete medical history and performs a physical exam
Reviews breast implant options
Discusses the procedure's risks and the recovery process
Determines whether you would benefit from a breast lift instead of, or in addition to, breast augmentation
To help his patients choose the breast implants that will provide the results they want, Dr. Chaffoo provides implant "sizers." You will be given the opportunity to see how you look by placing various sizes of these saline and silicone implants in your bra. We recommend wearing or bringing along a form-fitting shirt to the consultation.
Dr. Chaffoo also encourages you to review his extensive gallery of breast augmentation photos, showing real patient results, prior to your consultation. You can then share your favorite cases with him and even bring with you pictures of models from the internet or magazines to help express your goals. The extra effort that goes into the planning of your breast augmentation is part of the process that allows you to achieve your aesthetic goals.
Dr. Chaffoo evaluates your breasts and chest wall as part of a physical exam to ensure you are a good breast augmentation candidate and so you can maintain realistic expectations. Even though some asymmetry, such as nipple position, can be corrected during surgery, other subtle asymmetries may remain after breast augmentation and would not have been noticed by the patient prior to surgery.
Dr. Chaffoo points out these imperfections to you during the initial consultation. He will evaluate many parameters besides just the breast measurements at your consultation as all of these play an important role in the final outcome from breast augmentation surgery. In addition, he carefully measures the most important aesthetic landmarks including breast width, sternal width, nipple position, nipple diameter, and position of the breast fold because there can be considerable variation from one breast to another and even similarly sized implants can have a significantly different appearance from one patient to another.
The Breast Augmentation Procedure
Dr. Chaffoo performs breast augmentation as an outpatient procedure that takes approximately 1 to 2 hours to complete. He typically places the incisions along the crease just above where the breast connects to the chest wall (the inframammary fold), or along the lower edge of the nipple. He then creates a pocket for each breast implant.
The location of the implants is something you discuss with Dr. Chaffoo at your consultation. If you're concerned about getting results that look and feel as natural as possible, Dr. Chaffoo recommends placing the implants under the chest muscles in most cases. In some cases, though, patients choose to have implants placed behind the existing breast tissue, but above the muscles.
As a skilled and experienced plastic surgeon, Dr. Chaffoo takes steps during the procedure that can help you achieve a more flattering breast size and contour, taking into consideration the goals you described during the consultation.
During the procedure, Dr. Chaffoo places sterile surgical sizers and he views the breasts from several angles. The operating table is placed at an incline so that he can observe how the implant responds to gravity and to determine the optimum implant size. Once he determines the optimal size, the sterile surgical sizers are removed and replaced with a permanent implant. The sizers help Dr. Chaffoo confirm that the desired breast implant size will achieve the patient's aesthetic goals. He believes that taking these steps allows him to give patients the most accurate breast volume and shape. It is this attention to detail that separates the ordinary from the exceptional plastic surgeon.
Risks & Complications
For the most in-depth information about complications and an assessment of your specific risk profile with breast augmentation, be sure to ask Dr. Chaffoo plenty of questions during your consultation.
Each breast implant type has its own safety profile with unique physical characteristics that affect the chance of a rupture or other complications. Studies show that cohesive gel breast implants, may have a lowered risk of complications. [2]
There are other more general risks that can be associated with surgery of any kind. Dr. Chaffoo will discuss these with you fully during your consultation. Patients should be aware of the following possible complications:
Infection is uncommon but can be treated with antibiotics.
Capsular contracture is one of the more common breast augmentation complications. This occurs when the layer of scar tissue that naturally develops around the implant hardens and contracts, which can affect comfort and the appearance of the breasts. [4]
Loss of sensation is usually temporary and restricted to the nipple and skin.
Scarring can be concealed and minimized by a skilled surgeon, but the result depends on many factors, such as the incision method and an individual patient's skin type.
Rippling is more common with saline implants. The implant may appear to have a wrinkled texture on the lower portion of the breast when viewed from certain angles.
Asymmetry is usually not obvious, as the human body is not perfectly symmetrical. As the implants settle into place following surgery, one may rest slightly higher or lower than the other.
Calcium deposits can develop several years after surgery and may make mammograms more difficult to read.
Recovery After Your Breast Augmentation
In addition to these guidelines, be sure to follow all of Dr. Chaffoo's post-surgical instructions very carefully. By being a good patient, you are actively participating in the success of your breast augmentation. You can go a long way toward preventing complications by following Dr. Chaffoo's recovery instructions, which may include:
Enjoy the opportunity to rest, sleep, and relax as much as you need.
Don't drink alcohol or smoke for at least 2 weeks.
Don't drive for about the first week.
Take antibiotics if they are prescribed.
Sleep on your back for the first week.
Wear a support bra, if one is given to you, for about a month.
Avoid heavy lifting, raising your arms above your head, or strenuous exercise for about 3 weeks.
Your Safety Satisfaction
Patient safety is a priority to Dr. Chaffoo for all of his patients. Dr. Chaffoo carefully chooses the implants he offers, selecting only products with superior warranties, longevity, and outstanding safety records. With all of the knowledge gained during your breast augmentation consultation, you will understand your options and be in a position to make an informed decision.
Dr. Chaffoo only uses board-certified MD anesthesiologists to administer your anesthesia. In fact, the anesthesia group which Dr. Chaffoo chooses provides anesthesia to Scripps Memorial Hospital and most other private hospitals within San Diego county. In addition, Dr. Chaffoo does not perform this procedure in his office clinic but prefers the safety and sterility of a fully certified and licensed outpatient surgery center under the direction of his board-certified anesthesiologists' team members. His surgery center performs only outpatient aesthetic plastic surgery so that the anesthesiologists and surgical team are superspecialists in this field ensuring patients the highest quality of care.
You deserve the best care and results. Dr. Chaffoo demands the best — from himself and from his staff — so that your expectations will be exceeded. Dr. Chaffoo is a featured Breast Implants specialist on RealSelf.com.
Corresponding & Complementary Procedures
While it can be challenging to take time out for surgery and recovery, having a single recovery period can help you make the most of your downtime.
Dr. Chaffoo can combine breast augmentation with other procedures such as liposuction to sculpt areas of stubborn fat. Another popular option for women who have lost weight or had children is a tummy tuck to remove excess fat and skin and tighten stretched abdominal muscles. The combination of these procedures are popular options for women that choose to undergo a mommy makeover. At your private consultation, Dr. Chaffoo will review all of the options that can help you feel more feminine and confident.
What is the Cost of Breast Augmentation in San Diego?
Breast augmentation cost commonly ranges between $7,500 and $8500. Variances in total cost occur due to the patient's unique circumstances such as surgical method, implant type, current anatomy, anesthesia, medications, and other factors.
To receive an accurate assessment, schedule a consultation with Dr. Chaffoo. From there you will receive a complete price estimate for your breast augmentation and can proceed with scheduling your surgery.
Breast augmentation is typically considered an elective procedure and is not covered by medical insurance. However, it is best to discuss your coverage options with your healthcare provider. If your insurance does not cover your expense, payment and financing options are available for your convenience.
Get started on your journey today! Call (800) 373-4773 to contact La Jolla Plastic Surgery and Dermatology's Southern California locations.
References