Mommy Makeover
Consultations offered at our four convenient locations in La Jolla, San Diego, Newport Beach and Beverly Hills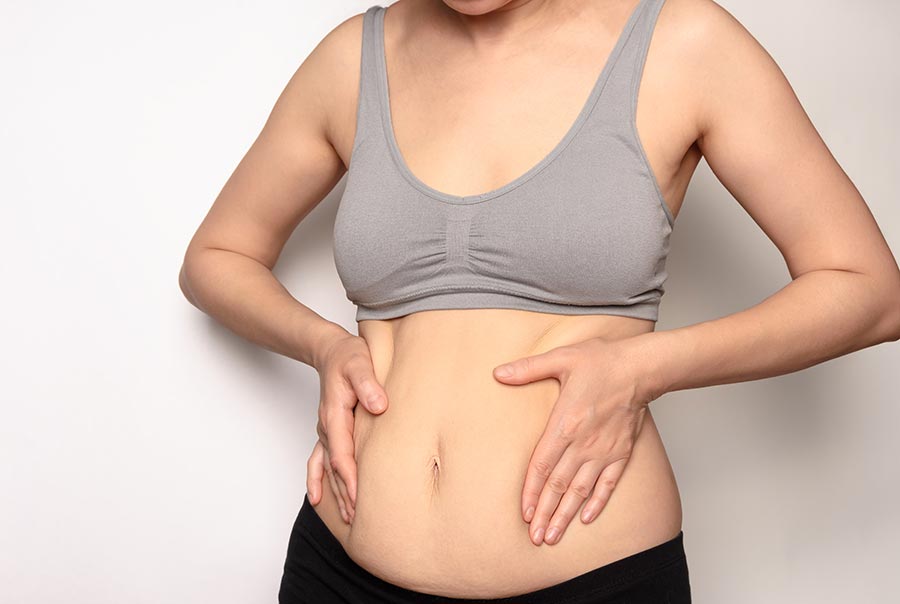 A mommy makeover is a set of procedures designed to address changes a woman's body goes through as a result of childbirth. Despite the rewards of becoming a mother, pregnancy and childbirth take a significant toll on a woman's body. A mommy makeover surgery is a combination of procedures that can revitalize not just your youthful contours, but your confidence too. This procedure is carefully customized to suit each patient individually, paying careful attention to your unique needs and aesthetic goals. At La Jolla Plastic Surgery & Dermatology, you can get access to excellent services and expert care from our dedicated team.
Dr. Richard Chaffoo and the team at La Jolla Plastic Surgery and Dermatology offer transformative procedures and supportive care so that women can feel like themselves again, or even better! If you are interested in learning more about how a mommy makeover can help restore your body and confidence, request a complimentary consultation online, or call our La Jolla office location at (800) 373-4773. You can also reach our San Diego office by calling (619) 633-3100, or reach our Beverly Hills location by calling (310) 774-2496.
About
A mommy makeover is personalized to each patient, but typically consists of procedures that address the areas that are most affected by pregnancy and aging: the abdomen and breasts.(1) Although new mothers can often lose baby weight with diet and exercise, there are other changes that occur that only surgery can address. Once skin has been stretched past its limit, many women will find that their breasts and abdomen aren't as firm, or in the same place as they used to be. Women suffering from diastasis recti, or abdominal muscles that have separated from the pressure of a growing fetus, can also experience a variety of uncomfortable symptoms that only surgery can alleviate. Each mommy makeover is as different as each patient.
Common reasons that patients opt for a mommy makeover include:
To correct drooping or sagging breasts
To restore or add volume to the breasts
To improve the look of a lax, protruding abdomen
To reduce a "muffin top" or other areas of excess fat
Before and After Photos
Mommy Makeover Procedures
Here are some of the cosmetic options Dr. Chaffoo commonly performs on his San Diego mommy makeover patients:
Breast Lift
One of the most common concerns for mothers, especially those who have breastfed their children, is drooping or sagging breasts. Also called a mastopexy, a breast lift will remove excess skin; and reshape breasts for a rounder, firmer contour, and more youthful look. It can also help to correct pendulous breasts and downward-pointing nipples as well as reduce overly large areola, the darker skin surrounding the nipple. During a breast lift, tissue is removed, the breast mound is secured in a higher position on the chest, and the nipple-areolar complex is moved to a higher location on the breast mound.(2) Breast lifts are sometimes performed with augmentation to adjust volume as well as positioning.
Breast Augmentation
Some mothers also lose volume as their breasts change in size during and after pregnancy. To restore volume and achieve a fuller, rounder shape, or for women who simply want to boost size, Dr. Chaffoo can perform a breast augmentation. This can be performed using synthetic implants or autologous fat transfer, which uses unwanted fat taken from elsewhere on the patient's body.
Tummy Tuck
Also called an abdominoplasty, a tummy tuck achieves a firmer, flatter abdomen. This surgery repairs muscles in the abdominal wall that have separated, a condition known as diastasis recti. The procedure also removes excess skin and reduces fat on the abdomen, for a slimmer, flatter tummy. In addition, the shape of the belly button or umbilicus is improved to make it more aesthetic and attractive looking.
Liposuction
Although liposuction is often performed with a tummy tuck to target bra fat or a "muffin top," it is also a popular mommy makeover option to address excess fat in the thighs, upper arms, or even the neck. Accumulations of fat on the abdomen often reach down to the mons pubis, and many women are interested in removing fat from this area.
Labiaplasty
A labiaplasty reduces the size of the labia majora, which can become enlarged during childbirth. This can result in discomfort during everyday activities and during sex. Having smaller, symmetrical labia can also make wearing certain clothing more comfortable and give women a boost of confidence in the bedroom.
Medical Spa Procedures
Dr. Chaffoo can refresh your face during your mommy makeover with Botox, dermal fillers, or other facial treatments. Why not? You've earned it!
Candidates
While the name may suggest the procedure is exclusive to mothers, it can be performed on any adult patient who struggles with lax skin, unwanted fat, or a lack of volume in the breasts, and wants to undergo several procedures in one surgical appointment.
Patients are eligible for the procedure when they are in good general health and can maintain a stable weight. To determine if you are an eligible candidate, you can schedule a complimentary consultation with Dr. Chaffoo and discuss your medical history and undergo an evaluation to ensure you can safely have the surgery.
Personal Consultation
Dr. Richard Chaffoo is one of America's only triple board-certified plastic surgeons since he is certified by the American Board of Plastic Surgery, American Board of Otolaryngology, and American Board of Facial Plastic and Reconstructive Surgery. With over 30 years of experience, Dr. Chaffoo remains dedicated to providing each patient with the best mommy makeover San Diego has to offer: including you! During your consultation with Dr. Chaffoo, you'll discuss the changes that your body has experienced due to pregnancy. From here, we will identify which procedures can best help you to restore your shape. If you are ready to see how a mommy makeover can help improve your quality of life as you begin this new life stage, contact us today at our La Jolla office location at (800) 373-4773, or our San Diego office by calling (619) 633-3100. Those in the Los Angeles area interested in a mommy makeover can reach our Beverly Hills location by calling (310) 774-2496. We also invite you to check out our blog to learn more about how our procedures are helping to improve our patients' lives.
Preparation
Before you can undergo plastic surgery treatment in San Diego such as a mommy makeover, you must carefully prepare for the healing and recovery process. You should make arrangements to have someone pick you up after the procedure, as you will be unable to drive yourself. Arrange for a trusted adult to stay with you for the first few days after surgery, and make sure that you'll have help around the house and childcare for the first week or two after surgery.
Once it is safe to resume, your surgeon will advise you. In addition, you may need to:
Quit smoking at least one month before surgery.(3)
Reduce drinking.
Get a medical evaluation.
Take or adjust medications as needed.
Avoid any NSAIDs and anti-inflammatory drugs or herbal supplements as they can increase bleeding.
Dr. Chaffoo will give you additional information about how to prepare for your procedure based on the details of your treatment plan.
Procedure
Mommy makeovers are typically performed under general anesthesia with a board certified anesthesiologist in a state licensed and fully accredited hospital or outpatient surgery center. To help reduce additional downtime and to help deliver a balanced result that heals evenly, mommy makeover procedures are usually performed during one appointment. This can take several hours depending on the procedures being done. After the necessary adjustments have been made, the incisions will be carefully closed with the sutures. As always, Dr. Chaffoo makes it a priority to minimize visible scarring from incisions, so he will utilize the appropriate suturing techniques, to ensure they will be as discreet as possible.
Recovery
The recovery process after a mommy makeover may vary for everyone, depending on the techniques and extent of correction required. Breast enhancement surgeries and abdominoplasties are major surgeries, but patients generally start to feel back to normal after one to two weeks. There may be some pain, discomfort, and inflammation in the first few days. Sitting down may be difficult, and you will be advised to sleep on your back. You'll need to avoid heavy lifting and physical activity like exercise for at least three months post-surgery. Compression garments must also be worn. Dr. Chaffoo will stay closely involved during the healing process to ensure everything goes smoothly. You'll be able to begin to see your results after two to three weeks once swelling has gone down. Results can take up to six months to one year to take full shape.
Results
After you've fully recovered from your mommy makeover, you can look forward to:
Smoother, firmer tummy and lower abdomen
More youthful-looking breasts
Increased confidence
Ability to enjoy a wider variety of clothing
Improved comfort, and relief from the symptoms that accompany diastasis rect or labial hypertrophy
With offices conveniently located in La Jolla, San Diego, and Beverly Hills, Dr. Chaffoo makes sure to take as much time as needed to address every concern and question from each patient. He understands that all his patients — especially mothers — deserve an unparalleled level of care. If you're interested in meeting with Dr. Chaffoo, request your consultation online, or call our office at (800) 373-4773.
Cost of a Mommy Makeover in La Jolla
Because each procedure is customized, the cost of a mommy makeover will vary for each patient. Factors that affect the costs include operating room fees, anesthesia fees, and surgical garments for recovery. A mommy makeover is considered an elective cosmetic procedure and thus will not likely be covered by an insurance provider. We will be glad to provide a cost estimate in a consultation, as well as financing options.
FAQ
How long does the recovery process take for a mommy makeover?
Recovery time can vary depending on the specific procedures performed, but most patients can expect to return to work and normal activities within 2-4 weeks. More strenuous activities, such as exercise, should be avoided for at least 6-8 weeks.
Are mommy makeovers covered by insurance?
In most cases, mommy makeovers are considered elective cosmetic procedures and are not covered by insurance. It is important to consult with your insurance provider to determine if any of the individual procedures may be covered.
Are the results of a mommy makeover permanent?
The results of a mommy makeover are not permanent and may be affected by factors such as weight gain, pregnancy, and aging. However, the results can be long-lasting with proper care and maintenance.
References
Matarasso A, Smith DM. Strategies for Aesthetic Reshaping of the Postpartum Patient. Plast Reconstr Surg. 2015 Aug;136(2):245-257. doi: 10.1097/PRS.0000000000001410.
Martinez AA, Chung S. Breast Ptosis. [Updated 2022 Jan 14]. In: StatPearls [Internet]. Treasure Island (FL): StatPearls Publishing; 2022 Jan-. Available from: https://www.ncbi.nlm.nih.gov/books/NBK567792/
Bartow MJ, Raggio BS. Liposuction. [Updated 2022 Sep 26]. In: StatPearls [Internet]. Treasure Island (FL): StatPearls Publishing; 2022 Jan-. Available from: https://www.ncbi.nlm.nih.gov/books/NBK563135/