Gynecomastia Surgery
Consultations offered at our four convenient locations in La Jolla, San Diego, Newport Beach and Beverly Hills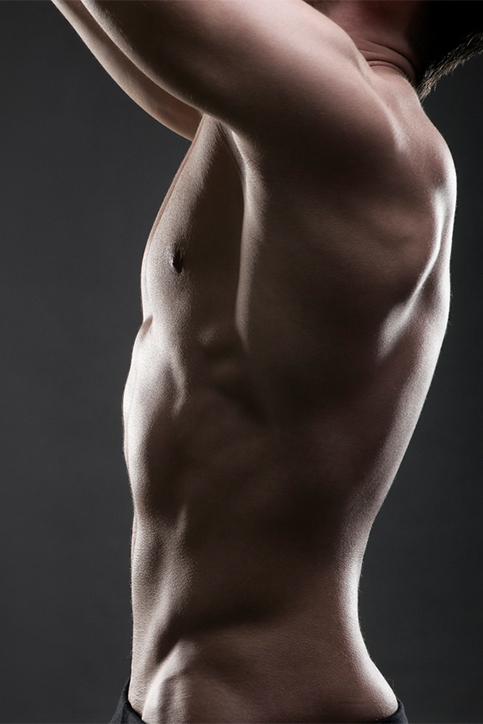 Gynecomastia is a condition when unwanted breast tissue develops in boys and men. Due to a combination of genetics and hormonal issues, this issue can arise at any age, but it most commonly begins to appear during puberty. It can't affect your health or put you at risk for breast cancer, but many men are bothered by the appearance it gives.
Men who have excessive fat accumulated on their chest can find it difficult to remove, even if they use exercise or try to lose weight in that region. Those who have had it from an early age may have suffered embarrassment or bullying due to their breast tissue. Although it can cause confidence blows, it's an extremely common condition that has a permanent solution.
At La Jolla Plastic Surgery & Dermatology, the combined skills of triple-board certified plastic surgeon, Dr. Richard Chaffoo and dermatologist Dr. Susan Stuart can help you achieve the transformation you've been searching for. Our doctors and staff only deliver the most thorough care for every individualized case of gynecomastia. Request a consultation online or call one of our locations in Newport Beach, La Jolla, and Beverly Hills, CA at (800) 373-4773 or San Diego, CA at (619) 633-3100 to get started today. 
Before and After Photos
What Causes Gynecomastia?
Men with gynecomastia have more fat, dense fibrous tissue, and/or enlarged glands within their breast tissue. Men do not have lobules for milk production like women, but an excess of other tissues can make their breasts look feminine.
The hormonal issue of having too little testosterone and too much estrogen in the body is a major factor. At the beginning of puberty, a normal increase in estrogen levels occurs and temporarily causes breast tissue to grow. As puberty continues, testosterone continues to rise and leads to the shrinkage of breast tissue. After age 17, only 10% of males will have persistent gynecomastia into adulthood since the hormonal imbalance remains. (1)
Obesity is another factor that seems to correlate with the onset of this condition. It was found that obese men had gynecomastia at a younger age than leaner men. They were also found to have higher blood sugar and correlated health conditions. Among men with gynecomastia who were not obese or overweight, a significant number showed abnormalities in their blood sugar levels– around 29% of them exhibited an issue. A family history of diabetes and hypertension seemed to impact the likelihood of a man developing gynecomastia. (2)
Personal Consultation
Dr. Chaffoo prioritizes thorough and informative consultations with his patients. He was named a Top Plastic Surgeon by Castle Connolly- an honor that has only been awarded to the top 5% of all plastic surgeons. During your consultation, you will get the chance to explain your unique experience with gynecomastia and the result you are looking to achieve. Call La Jolla Plastic Surgery & Dermatology today at (619) 633-3100 for our San Diego, CA office or (800) 373-4773 for our locations in Beverly Hills, Newport Beach, and La Jolla. You can also fill out our contact form requesting a consultation to speak with Dr. Chaffoo.
Procedures for Gynecomastia
Depending on the severity of the condition and the shape of your chest, Dr. Chaffoo will choose one of three methods: liposuction, excision, or a combination of both. Many procedures are performed under general anesthesia, but it may be possible to do it under local anesthesia with sedation. All three techniques can offer long-term results and patient satisfaction.
Liposuction
In a liposuction procedure, Dr. Chaffoo will make small incisions so he can inject tumescent fluid. This fluid contains lidocaine to numb the area, epinephrine to limit blood loss, and saline to make the breast fat easier to extract. Then a microcannula suctions out fat cells to flatten the chest. The incisions are then covered with gauze and surgical tape; no sutures are required. This method is ideal for men who have good skin elasticity and mostly fat buildup.
Excision
For excision, Dr. Chaffoo will make incisions of 2 to 2.5 cm just below the nipples in order to remove fat, fibrous and glandular tissue, and excess skin. This procedure requires either dissolvable sutures or sutures that will have to be removed later on during recovery. This technique works better for men with more breast tissue and looser skin.
Combination
A combination procedure will involve incisions below the nipple, traditional excision techniques, and the use of liposuction.
Preparation
You must prepare properly in order to get the best results possible. Dr. Chaffoo will advise you to stop taking blood-thinning supplements and medication in order to prevent excessive bleeding during the surgery. He will then highly recommend that you quit smoking for at least one month before your procedure date. Cigarettes have chemicals that constrict blood vessels – this extends the healing process and can lead to a less optimal recovery. Finally, he will conduct blood tests to evaluate if you're healthy enough to undergo surgery.
Benefits of Surgical Intervention
In very mild instances of gynecomastia, the breast tissue can be reduced with the right diet and exercise plan, but more severe cases require surgery for cosmetic improvements. (3) Some benefits you can expect to get from surgery are: 
Improved body image
More confidence with romantic partners
Promotes a more masculine contour
Smaller nipples
Can highlight pectoral muscles
Permanent results (with proper exercise and diet)
Outpatient procedure
Minimally-invasive
Requires subtle, small incisions
After surgery, Dr. Chaffoo will recommend that you keep an eye on your sex hormone levels regularly through blood tests.
Recovery
After the procedure is finished, Dr. Chaffoo will wrap your chest in surgical dressings and a compression garment to reduce swelling and the likelihood of infection. Regardless of the type of anesthesia used, it is mandatory that someone drives you home.
You may have a few thin tubes attached to your chest in order to allow the incision sites to drain out excess fluid. These will only be necessary for a few days. The compression garment itself, however, should be worn for 3-6 weeks, depending on the type of surgery you had.
Dr. Chaffoo will prescribe you pain medication and antibiotics to ensure a speedy recovery. Most patients are satisfied with over-the-counter medications to manage their discomfort.
You should abstain from physical activity for at least the first week. You should primarily rest and incorporate brief walks in order to encourage good circulation. If you have a sedentary job, you'll be able to resume after the first week. With more physically demanding jobs, you will have to wait 2-4 weeks. After 4-6 weeks, you will be able to admire your final results!
Candidates
In general, men who have completed puberty, have tried diet and exercise to reduce breast tissue, and are within a healthy weight range are candidates for surgery. Dr. Chaffoo will have to ensure that certain aspects of their health are in order. Patients should have their underlying health conditions well-managed. Ideally, they should be non-smokers (or willing to quit for a period of time) that are able to take the appropriate amount of downtime for recovery.
Cost of Gynecomastia Surgery in Southern California
The cost of your gynecomastia surgery will depend on the type of procedure and the extent of tissue removal. Every man deserves to feel good in their skin. Dr. Chaffoo's patient-focused, artistic approach to aesthetic surgery will leave you confident that you chose the right surgeon.
FAQ
Can gynecomastia come back after surgery? 
As long as patients follow a healthy diet, exercise regularly, and monitor their hormones, gynecomastia can't come back. The body can't regenerate new fat cells, so removal is highly effective. However, fat cells can grow larger and possibly lead to the appearance of gynecomastia. Maintaining a healthy weight is key to keeping lasting results from the surgery.
Can gynecomastia be treated without surgery?
Gynocemastia can't be aesthetically treated without surgery. Pseudogynocemastia- a condition that looks like gynecomastia but is only caused by being overweight or obese- 
Does gynecomastia pose any health risks?
Gynecomastia itself is benign, meaning that it can't cause any physiological problems. Psychologically, the condition can be harmful to men's self-esteem and body image. 
Will gynecomastia surgery leave scars?
Gynecomastia surgery through liposuction only requires tiny incisions that don't even require sutures. Surgery through excision only requires incisions that are only a couple of centimeters. The slightly larger incisions are made around the nipple where scars can be easily hidden by darker skin. With time and weeks-long compression, these scars are barely noticeable. 
Can teenagers undergo gynecomastia surgery?
In general, gynecomastia surgery is only performed on patients who have finished puberty. Most of the time, the increase in testosterone after puberty is enough to resolve mild cases. (1) The body needs to be fully developed and not exposed to changing hormones in order to reap lasting results.  
How long is the recovery period for gynecomastia surgery? 
Most men can return to work after just one week. With jobs that require more physical labor, the recommended wait time is 2-4 weeks. After 6 weeks, you be able to start your regular exercise routine, and you will see your final outcome.  
References