Facelift
Consultations offered at our four convenient locations in La Jolla, San Diego, Newport Beach and Beverly Hills
A facelift, also known as rhytidectomy, is a procedure that can reduce the visible signs of aging in the face and neck. It involves removing excess skin and tightening underlying tissues to improve the appearance of wrinkles, sagging skin, and loss of definition in the jawline and neck. The goal of a facelift is to achieve a more youthful and refreshed appearance, and incisions are concealed by the ears and the hairline.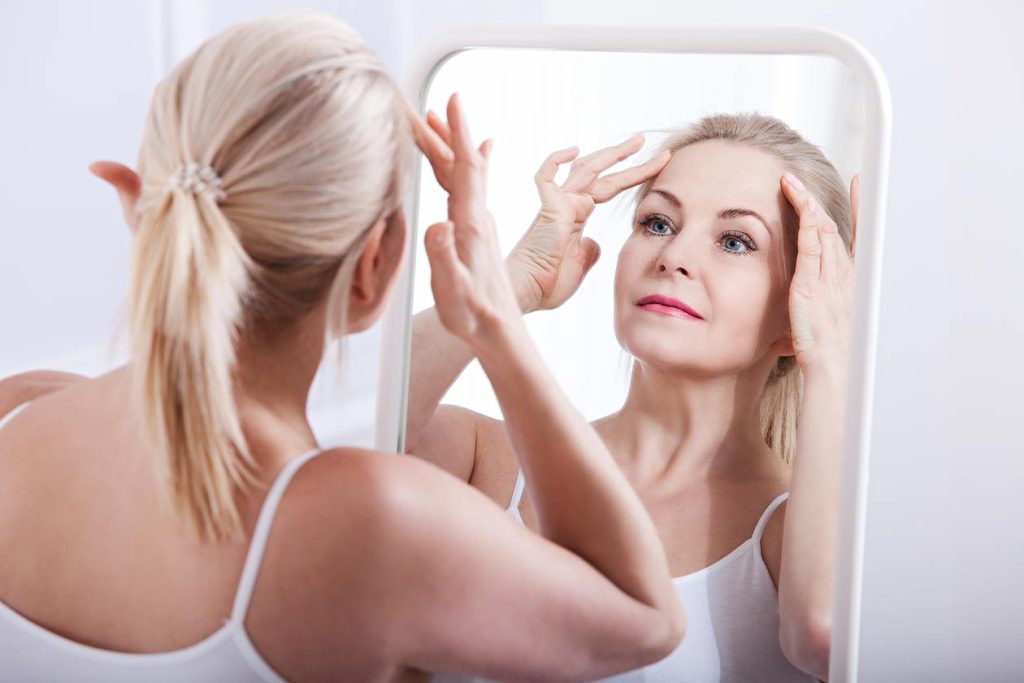 If you're considering a facelift, choose a top-notch plastic surgeon for your improvements. Dr. Richard Chaffoo stands out as just one of a few plastic surgeons in the world who is triple-board certified by the American Board of Plastic Surgery, American Board of Otolaryngology (Head and Neck Surgery), and American Board of Facial Plastic and Reconstructive Surgery. He is renowned for his commitment to achieving natural-looking results. Schedule a complimentary cosmetic consultation in La Jolla or San Diego by requesting one online or calling La Jolla Plastic Surgery & Dermatology at (858) 304-7082.
Follow Dr. Chaffoo's blog for advice on maintaining and prolonging your facelift results and more in-depth articles.
Before and After Photos
More About Facelift
A refreshed and youthful appearance reflected in the mirror can greatly boost your confidence and enhance your overall outlook on life. Unfortunately, stress, gravity, heredity, and exposure to the elements can take a toll on your face, making you look perpetually tired and aged. Facelift surgery in the San Diego area can help turn back the years from your appearance so you look like you, only better.
The structure of the face is largely determined by age, with gender and ethnicity playing a lesser role. [1] During infancy, the skin has its highest elasticity and subcutaneous fat, giving the face a rounded and cherubic appearance. The cartilage supporting the nose and ears is soft and pliable, adding gentle curves to the face.
As adolescence begins, the facial bones and cartilage grow and provide greater stability and definition to the face, maintained for many years. With advancing age, the facial structures gradually weaken, leading to the characteristic changes associated with the aging face. There is a gradual loss of volume in the face with aging creating hollowing of the temples, sagging of the cheeks and loss of fullness to the mouth and lips. While no one has invented a way to turn back time, a facelift comes close with the skills of a surgeon like Dr. Chaffoo. He uses his expertise and advanced techniques to rejuvenate the face and restore its youthful contours.
A facelift can
Improve sagging skin
Reduce the appearance of wrinkles and fine lines
Enhance the contours of the face
Restore lost volume to the face
Dr. Chaffoo strives to achieve natural-looking results that enhance patients' appearance and boost their confidence.
What are the Benefits of a Facelift with Dr. Chaffoo?
There are several benefits of a facelift with Dr. Chaffoo, including:
Rejuvenated appearance
Natural-looking results
Dr. Chaffoo's extensive expertise
A personalized approach
Long-lasting results
Improved confidence
If you're considering a facelift in San Diego, schedule a consultation at La Jolla Plastic Surgery & Dermatology to learn more about the procedure and its benefits.
Candidates for Facelift
There is no optimal age for a facelift; many women and men are good candidates for Dr. Chaffoo's customized facelift approach. Dr. Chaffoo bases your candidacy on the skin's condition and tone. He will readily let you know if you would benefit from a less invasive procedure or a non-surgical treatment.
The best candidates for surgery to improve an aging face have loose, sagging skin and underlying muscles on the lower two-thirds of their face. Younger patients whose skin retains a lot of its elasticity and shows only limited sagging may get excellent results from an endoscopic Mini Facelift, sometimes called a "short-scar facelift;" this technique is quicker and less invasive, requiring a shorter recovery than the traditional Facelift. [2]
Although each patient's situation is unique, good candidates for a Facelift share certain things in common, such as:
Some skin elasticity – In addition to repositioning the underlying tissue and muscle, a facelift stretches the skin somewhat. Successful results and recovery require the skin to be fairly supple.
Strong bone structure – Well-defined facial features provide support for good facelift results.
Realistic expectations – Facelift surgery aims to refresh your appearance so that you look like a younger version of yourself, not like someone else.
If you believe a facelift is an appropriate treatment to achieve your cosmetic goals, learn more about the procedure on the following pages:
Then call our office at (858) 623-6333 to schedule your consultation appointment.
Personal Consultation
You want to look your best; we all do. You've gone the extra step and decided that a facelift might be the answer. Now, you have to find the best plastic surgeon in your area. You want a surgeon who is:
Highly qualified to perform your facelift
Willing to take the time to educate you upfront about his or her surgical technique
Willing to inform you of the risks and complications
Someone who will tell you what to expect when recovering from a facelift in the San Diego area
You've come to the right place. During your consultation, Dr. Chaffoo will discuss, based on your skin's laxity and underlying bone structure, whether you would benefit most from the traditional facelift or the short-scar mini version. He will also explain the differences between the two.
Additionally, he will advise you on preparing for your surgery, describe his specific surgical technique, the size and location of incisions, recovery from your facelift, and the risks associated with the procedure.
Dr. Chaffoo performs all of his plastic surgical procedures, including facelift surgery, at a surgery center that focuses exclusively on outpatient, elective plastic surgery. This outpatient center is certified, licensed by the state of California, and directed by several board certified MD anesthesiologists. Your anesthesia is performed by one of these highly skilled anesthesiologists who are part of ASMG, the largest and most respected anesthesiology group in San Diego. ASMG also provides anesthesia at the major private hospitals in San Diego, including Scripps Memorial Hospitals and Sharp Hospitals amongst others. Patient safety is of the utmost concern for Dr. Chaffoo and his patients.
Contact triple board-certified plastic surgeon Richard Chaffoo, MD, FACS, FICS, for your cosmetic consultation by messaging us online or calling (858) 304-7062 for an appointment.
Preparing for Your Facelift in La Jolla
If you're a patient in San Diego preparing for a facelift, there are several steps you can take to ensure a successful outcome:
If you smoke, it's important to quit several weeks before and after the procedure, as smoking can slow down the healing process. [3]
Some medications, such as aspirin, can increase bleeding, so inform Dr. Chaffoo of any medications you take.
A balanced and nutritious diet can help speed up the healing process.
You will need to take time off work and plan for someone to help you around the house for several days to a week after the procedure.
Arrange for a friend or family member to drive you home from the cosmetic surgery center.
The Facelift Procedure
A facelift near San Diego can take several hours to perform. Facelift techniques vary slightly from one plastic surgeon to another, but most plastic surgeons perform the procedure in the following manner:
Step 1: Incisions
Incisions are made along the natural creases of your ears, and additional incisions are made to separate the skin from the fat and muscle underneath, preserving your existing hairline.
Step 2: Fat Removal
The extra fat from the neck and chin is trimmed off. In some cases, Dr. Chaffoo will use liposuction to contour and permanently remove the fat.
Step 3: Addressing the Muscles
The muscles of the neck and cheek are tightened.
Step 4: Excision
Excess skin is trimmed away, and the remaining skin is smoothly redraped over the newly sculpted contours and anchored with sutures.
Step 5: Observation
Immediately following your Facelift, your head will be bandaged to relieve temporary bruising and swelling, and Dr. Chaffoo's team of experienced nurses will carefully monitor you. A thin drainage tube might be inserted under the skin, but only for a few days. Dr. Chaffoo doesn't always use these surgical drains, especially if the surgery is relatively short. He also uses alternative methods of preventing blood from gathering beneath the skin.
Should you require it, Dr. Chaffoo will provide you with medication to minimize any pain you might feel during this time. You will be supplied with detailed post-operative care instructions to take with you.
Recovery After Facelift in San Diego
Patient experiences vary after facelift surgery. The majority of men and women experience minimal discomfort following their facelift.
After about five to seven days, your swelling typically subsides. You can further minimize swelling by keeping your head elevated.
At a week or less, your stitches will be removed.
Most of Dr. Chaffoo's patients return to work after 10 to 14 days; however, recovery rates vary.
For the first few weeks, you are advised to abstain from alcohol and any physical activity that might strain your body, including sexual intimacy.
Avoid steam baths and saunas, and limit your exposure to ultraviolet light.
Be sure to get your beauty rest!
You might experience some temporary numbness, and facial movements might feel stiff; this is to be expected following surgery and should diminish within a few weeks.
Throughout your recovery, you will periodically meet with Dr. Chaffoo so that he can assess your progress. Of course, in-between appointments, should you have any questions or concerns, you can contact your Patient Coordinator.
You demand the best from yourself. Dr. Chaffoo demands the best — from himself, his staff, and always for you. If you're considering facial sculpting plastic surgery such as a rejuvenating Facelift, San Diego plastic surgeon Richard Chaffoo, MD, FACS, FICS can help. He has an office conveniently located close to you on Genesee Avenue in La Jolla on the Scripps Memorial Hospital Campus at the Ximed Medical Center. Request your cosmetic consultation online or call (800) 373-4773 for an appointment.
What are the Risks Involved with Facelift Surgery?
Some men and women who might benefit from a facelift near San Diego temporarily put it off because they're worried about the risks and possible complications; some put it off permanently. It's unfortunate because plastic surgery's potential risks and complications are not unique to this type of surgery; it's inherent to any surgery, whether removing tonsils or transplanting a heart.
Triple board-certified plastic surgeon Dr. Richard Chaffoo doesn't treat you like a number. He treats you like a unique individual and as an adult capable of making an informed decision when presented with the facts regarding the risks and complications of a facelift.
Here are some of the potential risks:
Blood may collect under the skin (hematoma)
Nerves that control the facial muscles might be injured
Numbness
Infection at the incision site(s)
A negative reaction to anesthesia
Skin discoloration
The inability of the wound to heal properly
The possibility that you won't be happy with the results
Most of the complications associated with a facelift are either temporary, can be eliminated with antibiotics, or can be corrected by Dr. Chaffoo. One of the most common and challenging complications of a facelift is the "overdone" or "artificial" look. [4] This will never be a concern with Dr. Chaffoo's patients since he takes great care to achieve natural-looking results.
You can discuss the risks, complications, and rewards of a facelift in San Diego, including how your anatomy and healing abilities play an important role during your consultation. Request your cosmetic consultation online or call (858) 304-7130 for an appointment.
What are the Results After Facelift Surgery?
The results of a facelift can vary depending on the individual, but in general, patients can expect the following:
Younger-looking appearance
Improved skin tone and texture
Results that are long lasting yet natural looking
A feeling of confidence and self-assuredness
Corresponding & Complementary Procedures
A facelift restores a youthful facial appearance, but you might want to combine it with other facial rejuvenation procedures to achieve all the desired improvements. Dr. Chaffoo asks about overall cosmetic goals during your consultation and may recommend a customized treatment plan to meet those goals.
He can use liposuction to remove unwanted fat from the cheeks, under the chin, and the neck for firmer, more sculpted facial contours. Other procedures that may be appropriate include:
At your private consultation, Dr. Chaffoo will ask you to describe your cosmetic goals, answer your questions, and design a combination of procedures customized to you.
Improving Your Hairline
Patients who had facelift surgery with a different surgeon or when less-advanced techniques were used may be left with visible scars or an elevated hairline. Now, with advanced hair restoration techniques with devices like the Artas robot and NeoGraft® for hair restoration, our San Diego patients can cover scars at the edge of the hairline or even have their hairlines restored to their pre-surgery locations.
If you're interested in eliminating the signs of prior cosmetic surgery, Dr. Chaffoo's La Jolla Hair Surgery Center offers a variety of options that can help re-establish a lower, more youthful hairline.
What is the Cost of a Facelift in San Diego?
The cost of your procedure will be better understood by scheduling a consultation appointment. Don't let the signs of aging hold you back from enjoying life. Schedule your appointment with Dr. Chaffoo today! Call (858) 623-6333 today.
FAQ
Can I go out in the sun after a facelift?
You should pamper your skin following any facial rejuvenation procedure, especially after a facelift. Avoid direct sunlight until your incisions are completely healed, and be extra vigilant about sun protection; the sun's rays on fresh scars can cause permanent discoloration. This sun protection habit is a good one to get into for the long term, as well, because sun exposure causes a lot of damage and discoloration to our skin that spurs us to seek cosmetic treatments. The better you protect your skin, the better it will look for many years.
How long do the results of a facelift last?
This is a common question among patients and a valid concern. It's important to note that a facelift only improves the signs of aging but does not stop the aging process. The factors that influence aging, such as genetics, lifestyle, and the natural passage of time, still play a role. However, when performed by a skilled and experienced triple board certified plastic surgeon like Dr. Chaffoo, the results of a facelift can typically last for ten years or more. 
Will a facelift raise my sagging forehead?
No, a facelift is designed to improve the appearance of the lower two-thirds of the face. If you have concerns about your brow or eyes, Dr. Chaffoo may recommend combining the Facelift with a brow lift or eyelid surgery to complete your rejuvenation.
References