Dermal Fillers
Consultations offered at our four convenient locations in La Jolla, San Diego, Newport Beach and Beverly Hills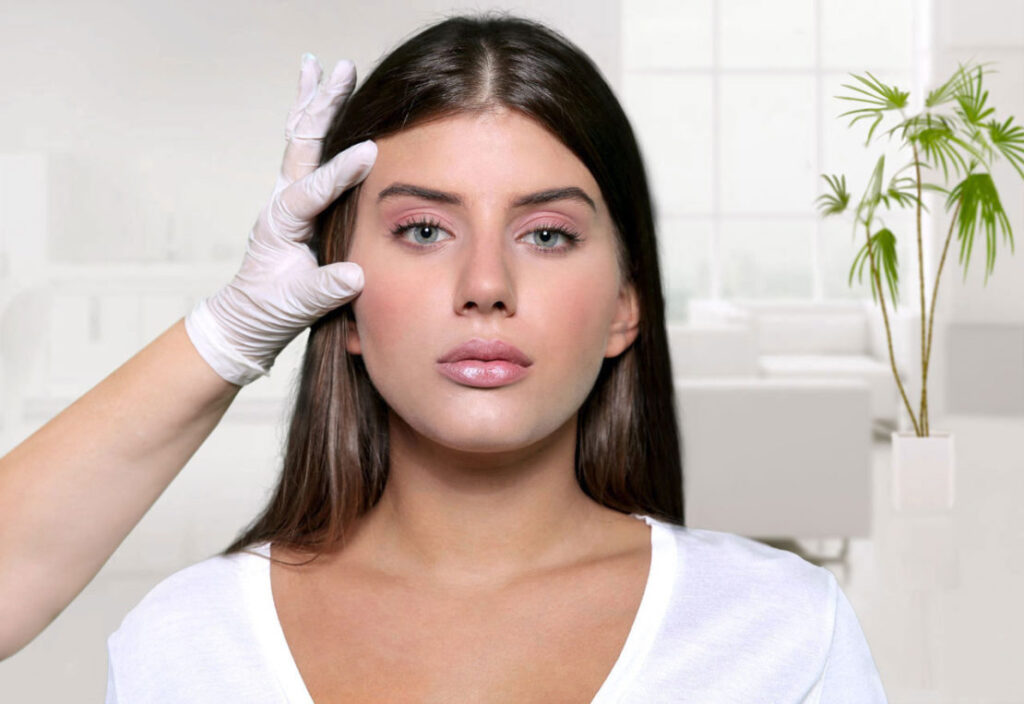 Have you ever noticed that ample, full facial features look younger and healthier than thin, gaunt features? Your face is one part of your body that looks better plump. When the structures beneath your skin are firm and robust, your skin will lie flat, reducing wrinkles, marionette lines and nasolabial folds. Shapely lips can also add sensuality and balance to every face. You don't even need invasive surgery to achieve facial fullness.
With injectable dermal fillers including BELOTERO®, ®, Restylane®, and JUVÉDERM®, San Diego-area women and men can easily accomplish their desired results with no downtime. To find out whether dermal fillers are right for you, visit La Jolla Dermatology. You can schedule a complimentary consultation with Dr. Susan M. Stuart by calling (800) 373-4773 or you can  request a consultation  online. Your facial features will look young and healthy again, and no one will ever be able to tell you've had treatment.
Procedure
As we age, our skin loses volume. Environmental factors like the sun and dry Southern California air deplete our skin of natural hydration even more. These factors can contribute to sunken cheeks and harsh lines around the nose and mouth. Now you can benefit from a secret many women are already taking advantage of: injectable fillers administered by award-winning dermatologist Dr.
Susan Stuart. Smart women know that finding the right treatment for their beauty needs is only part of the battle. Finding a doctor with the right technique for expert results is just as important. At La Jolla Dermatology, you get the best of both worlds for optimal skin care in San Diego and La Jolla. Combined with Dr. Stuart's expertise, the highest-quality injectable fillers provide a truly beautiful result.
Hyaluronic Acid Fillers
Non-animal, highly purified hyaluronic acid (HA) is a water-binding agent in the skin that supports the structures beneath the epidermis. Researchers at the University of Michigan Medical School have found HA fillers go a step further. Their studies show that HA fillers boost the body's own natural ability to produce and protect collagen. This is great news for men and women looking to reduce deep facial lines and gaunt-looking features that make them look older, tired, or even unhealthy.
The Michigan scientists discovered that in addition to strengthening the support system under the skin, HA fillers apparently act on fibroblast cells — the cells that produce collagen — prompting them to produce more collagen and collagen-protecting chemicals.
These fillers consist of a clear-gel injectable substance, which the body gradually absorbs.
What They Treat?
HA fillers add soft, youthful-looking volume to the structures that support our facial skin. The smooth gel is injected beneath the surface of the skin and can be used to treat many of the most stubborn lines and wrinkles, including:
Nasolabial folds
Marionette lines
Lip or smokers' lines
Lost volume in the cheeks, lips, temples, and elsewhere
Your skin looks firmer and smoother on its plumper foundation, and the increased collagen production restores suppleness and resilience.
How Long They Last
The longevity of your HA dermal filler results depends on a few different factors. Areas that move often, such as the mouth, may see results that are shorter-lived than areas that remain relatively stationary, such as the cheeks or chin. In general, patients enjoy the results of HA filler treatment for at least 6 months. During your complimentary consultation, Dr. Stuart will give you a better idea of the expected duration of your results.
She can also discuss an alternative to fillers that uses your own fat cells as a filler. This fat transfer technique takes fat from your abdomen or flanks, which is re-injected after it's purified.
Treatment Options
By offering a range of fillers, Dr. Stuart can tailor treatments to meet the unique needs of each patient. Here are the options we offer.
Juvéderm
The JUVÉDERM family of fillers includes:
JUVÉDERM XC
JUVÉDERM VOLUMA® XC
Both products include a local anesthetic that enhances the patient's comfort during the injections. JUVÉDERM XC is a gel with a smooth consistency that gets excellent results filling in the nasolabial folds and marionette lines.
Results can last up to a year. VOLUMA XC is the first filler approved by the FDA specifically to restore volume in the cheeks, with results lasting between 18 months and 2 years.1
Restylane
Restylane products include:
Restylane
Restylane-L®
Restylane® Silk
Restylane, like JUVÉDERM, is used to smooth facial lines and wrinkles. The gel is firmer than JUVÉDERM's smooth consistency, which makes it better suited for different areas. Restylane-L contains anesthetic lidocaine for enhanced comfort.
Restylane Silk is the only filler approved by the FDA that's specifically designed to enhance the lips and smooth the wrinkles and lines around the mouth for patients older than 21. Its micro-particles are smaller and smoother than in other Restylane fillers. It plumps the lips, but the results are subtle and appear natural. Dr. Stuart uses a tiny needle and injects the filler with precision.
Belotero Balance
BELOTERO is often used to treat the fine lines around the mouth. It is typically used less frequently to fill in nasolabial folds or other deeper wrinkles. The results can last about 6 months, depending on the areas treated.
Juvéderm Voluma® Xc
An attractive face is characterized by smooth, round contours, high cheekbones and a thin, well-defined jaw line. These features together comprise the 'triangle of beauty' or 'heart of face', with its base at the top and summit below. As we age, facial fat loss, gravity and loss of the skins natural elasticity conspire to reverse this triangle's composition, leading to a narrower, less youthful forehead and temple area, and a wider, heavier jaw line.
VOLUMA is the first and only hyaluronic acid (HA) filler FDA-approved to instantly add volume to the cheek area. It gives you a subtle lift, helping to restore contour and a more youthful profile, for up to 2 years,1 in patients over the age of 21. HA is a naturally occurring, hydrating substance found in your skin. As you age, you start to lose HA, which causes the skin to lose structure and volume.
Liquid Facelift
As we age, the face begins to lose collagen and elastin which contributes to sagging facial features. The loss of facial volume and elasticity also leads to the formation of wrinkles, lines and folds.
A Liquid Facelift is a technique for injecting advanced dermal fillers, such as Juvéderm, Radiesse and Restylane to lift and contour facial features. A non-surgical Liquid Facelift can be undertaken to accomplish any of the following:
Gentle lift of individual (or overall) facial features
Reduced wrinkles, creases, line or folds
Restoration of natural, curved facial contours
A more rested, energetic look
A friendlier smile
In some patients the goal of a non surgical Liquid Facelift procedure is to lift the entire face. In others, the goal is to lift or contour specific facial features. For example, under eye bags and dark circles can be masked by using Liquid Facelift techniques; eyes can be opened up and lids lifted; jowls can be lifted and diminished; natural shape can be restored to flattened cheeks or temple areas; corners of the mouth can be lifted; and bumps on the nose can be hidden
A Liquid Facelift involves the use of advanced dermal fillers, sometimes in combination with Botox or Dysport. The dermal fillers used are among a group of 2nd generation injectables that provide more enduring results than earlier products. These advanced dermal fillers includes Juvéderm Voluma XC, Juvéderm Ultra & Ultra Plus, Radiesse, Restylane, Belotero and Perlane. Each of these dermal fillers has unique attributes that work in their own special way to rejuvenate specific areas of the face.
In general, dermal fillers replace lost volume in the face or help the body regenerate its own collagen. Most of the fillers, such as Juvéderm, Restylane & Perlane are comprised of natural substances produced by the body. Precisely placed, the dermal fillers can be used to lift or contour any number of facial features.
Radiesse®
How Long It Lasts
Depending on the treatment area, RADIESSE results may last for more than a year.
What It Treats
Nasolabial folds
Corners of the mouth
Chin
Jawline
How It Works
Ideal wrinkle reduction is achieved by replenishing your skin's lost volume. Upon injection, RADIESSE immediately provides the volume and lift needed to diminish the signs of aging thanks to the calcium-based microspheres and gel that comprise the product. But what's unique about RADIESSE is that it acts as a scaffold beneath the skin, providing structure and stimulating your own natural collagen to grow. This process continues for several months, which extends the initial effect of RADIESSE. Best of all, the natural results are clinically proven to last a year or more in many patients, which is why Dr. Stuart chooses RADIESSE to achieve long-lasting facial rejuvenation.
Treatment Experience
During your complimentary consultation, Dr. Stuart performs a thorough examination of your skin to determine the amount of filler to use, proper injection sites, and the healthiest wrinkle filler regimen for your desired results. In many cases, she teams a filler treatment with BOTOX® Cosmetic for patients who want to smooth out both static and "dynamic" wrinkles that tend to form around the eyes and brow area.
Dr. Stuart is considered one of the area's leading experts in dermatology and has been selected as one of America's Top Physicians in Dermatology. You can trust her to assess the health of your skin and recommend and administer beauty treatments.
You will be asked to discontinue using some over-the-counter vitamins, aspirin, and other pain relievers that can increase bleeding and bruising at the injection sites. Your treatment will begin with a gentle cleansing of the skin followed by the application of a topical anesthetic for your comfort during the procedure. At Dr. Stuart's practice in San Diego, JUVÉDERM, Restylane, BELOTERO, and RADIESSE are injected using very fine needles.
Most patients report a slight sting from the needle and a little pressure as she injects the filler beneath the skin. Injections of dermal fillers take as little as 10 minutes, and usually no more than half an hour. You can schedule a convenient appointment during lunch, on your way to or from the office or while you're out running errands.
FAQ
How Do I Know Which Filler Is Best For Me?
Dr. Stuart evaluates each patient who is considering getting anti-aging injectable treatments. Based on her examination and the patient's cosmetic goals, she recommends the treatment or treatments she believes will achieve the optimal results. Among the factors taken into account are:

* The length of time the filler will last
* The area on the face that needs to be filled
* If your skin is thick or thin, and if you have lost any elasticity
* If you have fine wrinkles, etched wrinkles or troughs, or need substantial mid-face volume replenishment
What Side Effects Occur After Getting Fillers?
Dermal fillers are very safe and effective, but there are some common side effects. These are mostly minor and diminish in a couple of days. Swelling and bruising occur after filler injections. Depending on the filler used, they last anywhere from 24 hours to 3 days. Infection is a more serious complication but rarely occurs.
What Do Filler Treatments Cost?
The cost of a treatment varies depending on the areas being treated and the amount of filler needed to get the desired results. Fillers are typically priced per syringe, and fillers such as JUVÉDERM and Restylane usually cost between $450 and $600 for one syringe.
Are The Treatments Painful?
The formulas now used for most fillers include a local anesthetic that helps minimize the discomfort patients may feel during the injections. Of course, some patients are more sensitive than others and may experience more discomfort. Most describe the feeling as a minor discomfort, like getting a shot. We do everything possible at La Jolla Dermatology to make your experience as positive as possible.