Brazilian Butt Lift
Consultations offered at our four convenient locations in La Jolla, San Diego, Newport Beach and Beverly Hills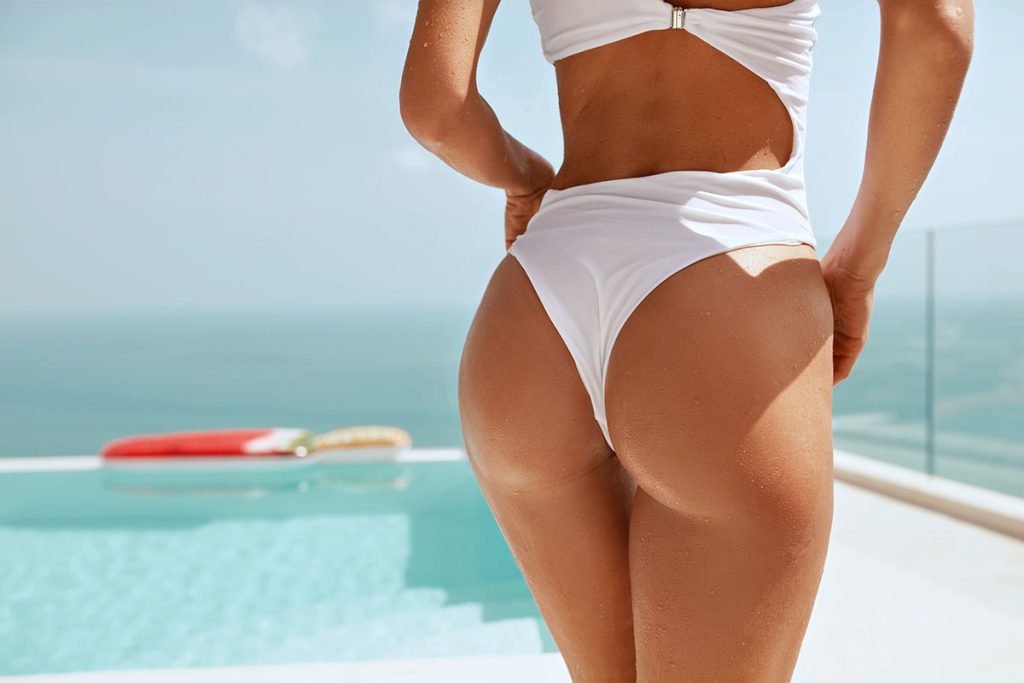 The Brazilian Butt Lift (BBL) is a cosmetic surgery that enhances your curves and gives for a desirable hourglass figure. This procedure makes the buttocks bigger, rounder and creates a harmonious and proportionate silhouette that enhances your natural curves.
Plus, because the transferred fat comes from the patient's own body, the BBL is two procedures: slimming liposuction and a butt enhancing fat transfer combined to create a stunning hourglass shape that will have you turning heads.
What makes a BBL so special is the artistry involved. Your surgeon has to be both a skilled technician and a master sculptor, considering your unique body shape, skin elasticity, and personal goals. Luckily, for La Jolla, Newport, San Diego, and Beverly Hills residents, Dr. Richard Chaffoo is just that surgeon. At La Jolla Plastic Surgery & Dermatology, you can rest assured that you are in the hands of a triple-board certified surgeon. He has extensive experience performing Brazilian Butt Lifts safely and with incredible results. Dr. Chaffoo and his team of skilled professionals will guide you through every step, from the initial consultation to post-operative recovery. They are committed to providing you with the highest level of care and ensuring that you achieve the beautiful curves you desire. Call (858) 623-6333 or fill out this form today!
Read more about the procedures Dr. Chaffoo offers his patients on his blog.
Before and After Photos
More About the Brazilian Butt Lift
BBLs are also called "autologous fat transfer for gluteal augmentation," but interestingly, the Brazilian Butt Lift did not originate in Brazil. [1] The term Brazilian Butt Lift was coined by a plastic surgeon in Beverly Hills, as a savvy marketing strategy to capitalize on the many advances made by world-renowned plastic surgeons in Brazil. The Brazilian gluteal lift is now safer and more popular than ever and an effective way to enhance the shape and size of the buttocks. At La Jolla Plastic Surgery & Dermatology, we offer this safe and proven procedure to help our patients achieve their aesthetic goals and live their best lives.
First, liposuction removes excess fat from areas of the body such as the:
Arms
Back (where your bra sits)
Sides (flanks)
Knees
Lower back
Abdomen
Thighs
Hips
The second stage involves injecting the purified fat cells into the buttocks, sculpting and augmenting them to create a fuller, more lifted appearance. So not only will your rear end look fabulous, but you'll also enjoy a more toned, contoured figure overall.
The BBL is not just a simple method of injecting fat; it takes skill, precision, and an eye for aesthetics to perform effectively and ensure the survival of the transferred fat. Dr. Chaffoo uses his artistic eye and meticulous techniques to inject the fat cells into precise areas of the buttocks, sculpting and shaping the tissue to create a lifted, rounded, and youthful backside. He pays careful attention to the proportions and symmetry of your body, ensuring that your new curves enhance your overall silhouette in a natural-looking manner.
How Much Fat Survives Fat Transfer?
For the fat transfer procedure to succeed, preserving the health and integrity of the living fat cells is crucial. [2] These living cells must integrate with the tissue in their new location in order to survive, and for the transfer to be effective. Unfortunately, it's impossible to predict exactly what percentage of the fat will graft successfully, and what portion will be reabsorbed by the body. While many surgeons will often add extra fat (about 20% more) during the surgery to account for the fat that doesn't survive the graft, adding too much can also compromise the ability of the transferred cells to survive. This delicate balance of aesthetics and physiology requires a skilled and responsible surgeon. Dr. Chaffoo takes special steps to preserve these important components during the harvesting and transfer processes. This increases the likelihood of you getting beautiful, and long-lasting results.
What are the Benefits of BBL?
Get ready to embrace your curves like never before! The Brazilian Butt Lift isn't just a booty-boosting procedure; it's the secret weapon to achieving your dream body. Here's why:
Fast Results
You'll notice an immediate difference as soon as the swelling subsides. Say goodbye to waiting months to see results and hello to your new fabulous figure.
No Gym Required
Forget the gym, it's time for the hourglass figure you've always wanted. With a BBL, expert surgeon Dr. Chaffoo works magic to give you the ultimate silhouette. We're talking about an envy-inducing waist-to-hip ratio that will turn heads wherever you go.
All Natural Procedure
A BBL allows you to enjoy your new curves without needing implants or fillers. You can have a butt that looks and feels natural, just like it was always meant to be.
Target Problem Areas
By removing fat from other areas of your body, a BBL also has the added benefit of contouring those pesky problem areas, and putting that unwanted fat to good use, for redistributed curves that will make you feel like a goddess.
It's time to unleash your inner diva and transform your body with a Brazilian Butt Lift. Contact us today to schedule your consultation and prepare to live your best life!
Who is the Ideal Candidate for a Brazilian Butt Lift?
Before planning your new wardrobe, we must ensure you're the ideal candidate for this fabulous procedure.
The fat cells in specific areas of your body can be harvested and transferred to your booty, but if you're on the leaner side or if your fat cells are sparse, this might not be the right procedure for you. Dr. Chaffoo will evaluate your body during your consultation to determine the best action for your situation.
Your skin must be healthy and have enough elasticity to accommodate the changes from the procedure. If your skin is sagging, a BBL may not suit your needs. But don't fret; we offer a range of procedures to help you achieve your desired look, and Dr. Chaffoo will guide you toward the one that's right for you.
If you're looking for a natural solution to enhancing your curves, the Brazilian Butt Lift might be the perfect alternative. As long as you maintain a healthy weight and have the right amount of fat to remove, you're a prime candidate for the BBL.
So, let's get started on your journey to the perfect booty. Schedule your consultation today, and we will guide you toward the figure of your dreams!
Personal Consultation
You're taking the first step towards your dream body by considering a consultation with Dr. Chaffoo at La Jolla Plastic Surgery & Dermatology. Here's what you can expect:
We will take the time to get to know you and your unique aesthetic goals. We want to understand what you're looking for and what you hope to achieve through cosmetic surgery. You can expect a warm and friendly environment where you can feel comfortable discussing your concerns and desires.
Dr. Chaffoo will conduct a thorough physical examination and evaluation to determine your eligibility for your desired procedure. He will ensure you know all available options and guide you toward the best course of action to achieve your desired outcome.
During the consultation, Dr. Chaffoo will explain the entire process, including the risks and benefits of the procedure, so that you can make an informed decision about your treatment plan. We're dedicated to ensuring you have all the information you need to make the best choice for your body and lifestyle.
Dr. Chaffoo will also help you create a customized plan to address your unique goals, concerns, and physical attributes. Every patient is unique and deserves an individualized treatment plan tailored to their needs.
We want you to feel confident and excited about your transformation journey. Our team is here to provide guidance, answer any questions you may have, and help you make an informed decision about your cosmetic surgery needs. So, what are you waiting for? Book your consultation with Dr. Chaffoo today, and let us help you achieve the body of your dreams! Call (858) 623-6333 for our San Diego, La Jolla, Beverly Hills, or Newport Beach locations.
Preparation
We're excited you've chosen La Jolla Plastic Surgery & Dermatology for your upcoming cosmetic surgery. Here's what you need to know about preparing for your procedure:
Our team will provide detailed instructions, including avoiding certain medications, quitting smoking, or adjusting your diet to promote optimal healing.
Arrange for a friend or family member to drive you to and from the surgery center and stay with you for 24 hours after the procedure.
Ensure your home is ready for recovery by setting up a comfortable space for yourself to rest, stocking up on healthy foods, and arranging for any necessary medical supplies.
Proper preparation is essential for a successful outcome, and we'll work with you to ensure you feel fully prepared and confident heading into your procedure. Please contact our team if you have any questions or concerns about preparing for your procedure. We're here to support you every step of the way.
The Procedure
Dr. Chaffoo performs all cosmetic surgical procedures in a certified and licensed surgery center which is directed by the same anesthesia group that provides anesthesia services to the Scripps Hospital system. He only uses board certified MD anesthesiologists to provide your anesthesia in a safe and sterile environment. During the Brazilian Butt Lift procedure, Dr. Chaffoo uses liposuction techniques to harvest fat from your body, carefully selecting areas that will provide the best quality and quantity of fat cells for transfer to your buttocks. The harvested fat is then purified and processed to remove impurities, ensuring only healthy, viable fat cells are used for injection.
While he takes great care to ensure that as much fat as possible survives the transfer process, it's important to understand that not all transferred fat will survive. The exact amount that survives can vary from patient to patient and depends on several factors.
On average, around 60-80% of the transferred fat survives in its new location. However, it's worth noting that some patients may experience more or less fat survival depending on their circumstances. [2]
Dr. Chaffoo will work with you to set realistic expectations for your surgery. He prides himself on delivering exceptional results and will work tirelessly to ensure you achieve the full, round buttocks you've always dreamed of.
Recovery After Surgery
After the surgery, you'll be released by the nursing staff at the outpatient surgery center to go home with a caretaker to begin the recovery process. During this time, paying close attention to the area where the fat was liposuctioned and your newly enhanced buttocks is essential. You may experience some bruising in both places, which is entirely normal.
It's vital to avoid placing unnecessary weight on your backside for at least two weeks following the surgery. This will help ensure the newly transferred fat cells have the best chance of surviving and settling into their new home.
What are the Results of BBL in Beverly Hills?
As the swelling begins to subside, you'll see results from your surgery. Typically, the full outcome is visible around 4-6 weeks post-surgery. You'll notice that your buttocks appear round and shapely, giving you the fuller, well-shaped look you've always wanted.
Moreover, the areas where liposuction was performed may also contribute to your enhanced look. Liposuction on your lower back or flanks can complement the new contours of your buttocks and create a more beautiful overall result.
Now it's time to show off your gorgeous new butt! With a rounder, fuller butt, you may find that you can wear clothes that previously didn't fit or flatter your figure. You may also discover new styles that accentuate your curves and make you feel more confident and sexy.
Having a rounder, more shapely butt can give you a major confidence boost. You may feel more comfortable going out in public, more self-assured in social situations, and generally happier with your appearance.
What is the Cost of a Brazilian Butt Lift in San Diego?
At La Jolla Plastic Surgery & Dermatology, we believe that everyone deserves to feel confident and beautiful in their skin. If you're ready to take the next step towards a more confident, beautiful you, we're here to help. Contact us today to schedule a consultation with our expert team, during which we will discuss the cost of BBL. Call (858) 623-6333 today!
References
Chia CT, Theodorou SJ, Dayan E, Tabbal G, Del Vecchio D. "Brazilian Butt Lift" under Local Anesthesia. Plastic and Reconstructive Surgery. 2018;142(6):1468-1475. https://doi.org/10.1097/prs.0000000000005067
Shauly O, Gould DJ, Ghavami A. Fat Grafting: Basic Science, Techniques, and Patient Management. Plastic and Reconstructive Surgery – Global Open. 2022;10(3):e3987. https://doi.org/10.1097/gox.0000000000003987