Fat Transfer
Consultations offered at our four convenient locations in La Jolla, San Diego, Newport Beach and Beverly Hills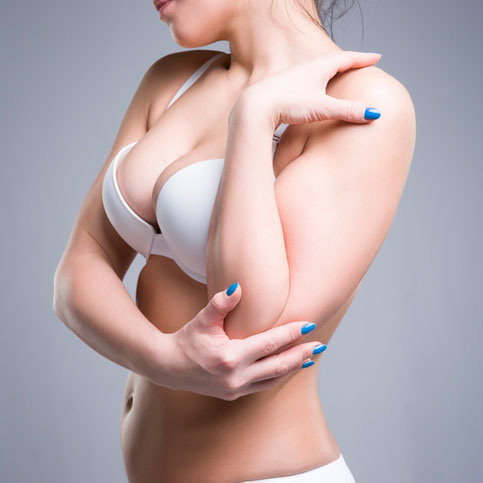 Fat Transfer Breast Augmentation is available to patients in the San Diego, La Jolla, and surrounding communities. Triple board-certified plastic surgeon, Dr. Richard Chaffoo works together with board-certified dermatologist Dr. Susan Stuart to deliver a world-class experience at La Jolla Plastic Surgery & Dermatology.
Procedure
The size, shape, and curves of your body are unique, and part of what makes you beautiful. Even still, almost everyone has some parts they'd like to change to better suit their aesthetic goals, desires, or overall figure.
One of the most popular areas to address is the chest, and there are many different approaches a person can take to enhance their breast size, shape, and volume. At La Jolla Plastic Surgery & Dermatology, we offer our patients in La Jolla and San Diego Fat Transfer Breast Augmentation to help enhance their bust.
When it comes to breast augmentation, many patients are seeking an enhancement that is noticeably fuller and larger, often going up one or more cup sizes. Implants are generally associated with this procedure, especially when going for a dramatic change.
For smaller, more natural-looking enhancements, we offer procedures like fat transfer breast augmentation, which eliminate the need for implants by using donor fat harvested from other areas of the body.
About Breast Augmentation
A fat transfer breast augmentation is a cosmetic surgery procedure that utilizes a popular body contouring technique to enhance target areas. By combining liposuction with targeted injections, your surgeon can graft fat to help fill out or enhance areas such as the breasts. Fat transfers are less invasive than other breast augmentation procedures, particularly implant surgery.
Also known as natural breast augmentation, this procedure offers improvements in two ways: by enhancing the breasts with natural fat, and also reducing unwanted or stubborn fat in other areas by harvesting it for the procedure.
Results
Breast augmentation is often associated with larger breast implants, but this is not the only way to achieve your desired results! For those who want a smaller, more natural-looking enhancement in the bust, a fat transfer may be more beneficial and deliver amazing results. It is generally not possible to achieve the same level of fullness or contour changes as a surgical augmentation but can offer many positive benefits, in addition to allowing you to see small changes that best suit you. Also, fat transfer can help to enhance the results of breast augmentation surgery which is performed with breast implants to provide fullness or cleavage that might not be possible with breast implants alone.
Considerations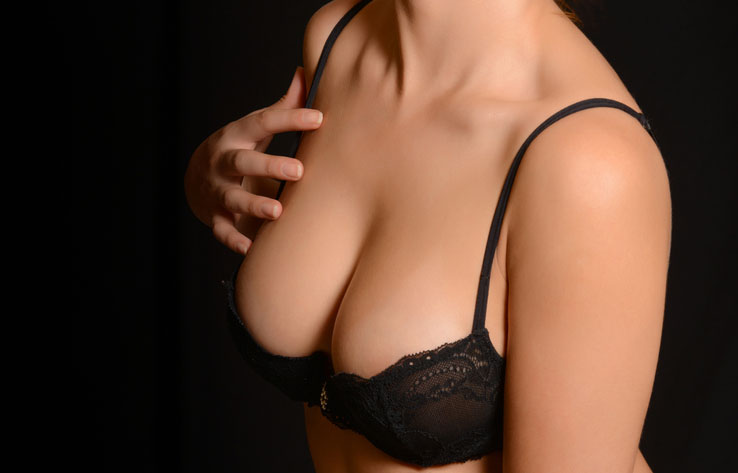 Since the procedure combines liposuction with fat injections, patients must first choose a donor site for the fat graft. Common areas include the abdomen and lower abdomen, thighs, arms, and buttocks.
Patients who struggle with excess or stubborn fat in those areas find this to be an excellent way to reduce this issue while enhancing the breast. Because the procedure calls for liposuction, it can also help to improve your overall figure.
Ideal Candidate
Fat Transfer Breast Augmentation is an ideal procedure for patients who wish to achieve a relatively small increase in bust shape or size, or who struggle with asymmetry in the chest.
Fat transfer candidates must have enough donor fat that can be successfully harvested in order to perform the procedure.
While it is not as in-depth as implant placement, it is still considered a surgical cosmetic procedure, and patients should take heed not to smoke, drink, or take certain medications when preparing for their appointment.
Consultation
If you have been considering a boob job, but are not sure if implants are the right approach for you, consider a fat transfer as the alternative! It's ideal for anyone who wants to avoid the risk of implant complications, replacing or exchanging them, or allergy concerns.
Patients who want to see a dramatic enhancement may not be the best candidate for a fat transfer, but Dr. Chaffoo will work closely with each patient to understand their unique needs. To schedule a complimentary consultation for Fat Transfer Breast Augmentation San Diego and La Jolla patients can call our facility and speak with an expert team member.
FAQ
Are Fat Transfer Breast Augmentation Procedures Permanent?
The breasts are a part of the body that is constantly changing, especially for women who experience hormones, pregnancy, breastfeeding. Weight fluctuations can also affect the size or shape of your breasts. Because of this, many breast enhancement results can start to shift or revert back over time.
With fat transfers, some patients may notice that the donor tissue will be reabsorbed into the body and leave a small percentage behind in the breasts. This means patients might need more than one attempt to achieve their immediate goals.
Is The Fat Transfer Breast Augmentation Procedure Safe?
When performed by a board-certified plastic surgeon with knowledge and experience in fat transfer, breast augmentation, and body contouring procedures, a breast augmentation fat transfer can be safe and effective.