Tummy Tuck
Consultations offered at our four convenient locations in La Jolla, San Diego, Newport Beach and Beverly Hills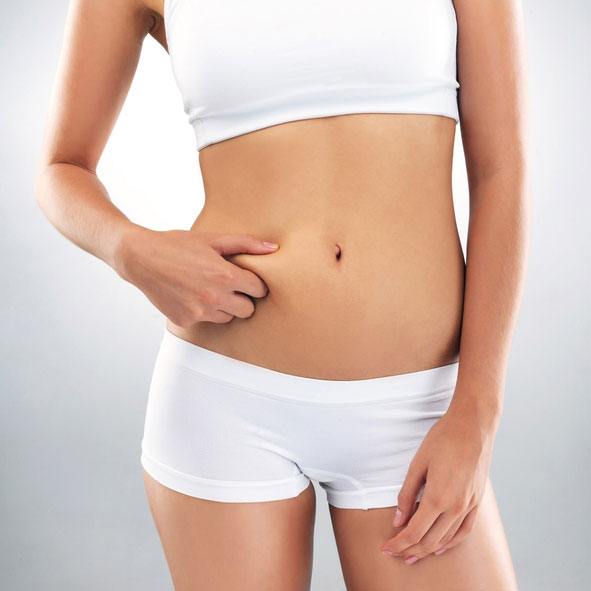 A tummy tuck, also called an abdominoplasty, is a procedure that helps patients achieve a flatter abdomen. It can also restore weak, separated muscles to create a firmer, stronger abdominal wall. (1) The surgery involves removing excess skin from the abdominal area, leaving a discreet, easily hidden incision.
Sagging skin and a protruding abdomen are common aesthetic complaints for men and women alike. Unwanted changes to our midsections can result from aging, genetics, extreme weight loss, or pregnancy. As such, it's a key procedure in the Mommy Makeover. A tummy tuck can create a more desirable body contour, improve the fit of clothes, and boost self-esteem.
Dr. Richard Chaffoo and the team at La Jolla Plastic Surgery and Dermatology have helped numerous patients restore their self-confidence with a tummy tuck. With four locations in Southern California, we can help you rediscover a body you love. If you are interested in learning more about tummy tucks and whether the procedure is right for you, contact our La Jolla office today at (800) 373-4773.
About Tummy Tucks
A tummy tuck can help patients achieve a slimmer, trimmer waistline. Loose excess skin is removed for a flatter midsection. It can also help reduce discomfort and muscle weakness after pregnancy. Diastasis recti, or the separation of the rectus abdominis muscles during pregnancy, usually resolves over time. But for some women, rippling and bulging remain. By suturing the muscles back together, an abdominoplasty can achieve the following.
Restore weakened muscles
Stabilize core strength
Improve bladder function
Sculpt the abdominal profile
Abdominoplasties have been performed since the 1960s, and medical advances have led to the development of several different surgical approaches.(1) There are now different types of tummy tucks that can be customized to the patient's individual needs.
Types of Tummy Tuck Procedures
Full Tummy Tuck
A full tummy tuck addresses excess skin along the full length of the abdominal wall, above and below the belly button. The procedure removes excess skin and tightens the area to achieve a smoother, flatter abdomen. After the skin has been redraped, a new opening for the umbilicus, or belly button is made so that it remains in a natural-looking position. A full tummy tuck may also result in fewer stretch marks since the affected skin is removed, while also contributing to a more streamlined silhouette.
Mini Tummy Tuck
A mini-tummy tuck addresses the lower abdomen, specifically the area below the belly button referred to as a "pooch." This procedure focuses on the removal of excess skin between the pubic area and navel and utilizes a shorter incision than that used during a full tummy tuck. The mini tummy tuck may involve tightening underlying muscles, and is ideal for patients with good skin laxity, and minimal excess abdominal skin and fat. To perform a mini tummy tuck, Dr. Chaffoo will make a short incision above the pubic mound.
Extended Tummy Tuck
An extended tummy tuck involves a longer incision that continues to or around the sides. It addresses both the abdominal wall and flanks, popularly known as "love handles." An extended tummy tuck can be beneficial for patients who have lost a lot of weight and carry more excess skin in this region. An extended tummy tuck can include a circumferential abdominoplasty, which can help lift the thighs and buttocks, or a panniculectomy, and is typically performed on patients who have undergone bariatric surgery. Diastasis recti or hernias can also be corrected. Since the treated area and incision is larger than that of a mini or full tummy tuck, recovery will take more time.
Benefits
Our patients enjoy a number of benefits as a result of a tummy tuck. These include the following.
A smoother, flatter abdominal appearance
Elimination of excess abdominal skin
Stronger core after muscle repair
Improved posture
Reduced appearance of stretch marks
Incisions that are easily concealed after recovery
Tummy tucks are often combined with liposuction to remove excess stores of fat in the abdominal area. This allows patients to enjoy a slimmer waistline and female patients to attain more pronounced hourglass curves.
Candidates
You may be a good candidate for a tummy tuck if:
You do not smoke
Your weight is stable
You are generally in good health
Pregnancy has caused loose, sagging abdominal skin
You have excessive skin following significant weight loss
You have realistic expectations for your results
An individual may not be a good candidate for a tummy tuck if they have certain underlying health conditions such as cardiopulmonary disease, cirrhosis, diabetes, or are smokers. (1)
Personal Consultation
Dr. Chafoo is a triple board-certified plastic surgeon and has been awarded Top Plastic Surgeon by Castle Connoly, in addition to other awards and achievements. He has the experience and skill to help you achieve flatter, smoother abdominal contours with a tummy tuck. At your consultation, we will discuss your surgical goals, current medications, past surgeries, and any medical conditions that could cause complications with the procedure. This information will help us evaluate if a tummy tuck is right for you, and which approach will help you best achieve your goals.
Contact us today at our La Jolla office to set up a one-on-one consultation! We also invite you to read our blog to learn more about our work helping patients improve their lives with cosmetic and reconstructive procedures.
Preparation
Patients should pay extra close attention to their preoperative guidelines. Follow these guidelines as closely as possible to experience an effective procedure and recovery.
Pre-fill your prescriptions.
Develop a consistent fitness routine.
Undergo a medical evaluation and/or lab testing.
Quit smoking at least four weeks before your procedure.
Discuss current medications and make adjustments as needed.
Avoid blood-thinning medications and dietary supplements such as aspirin, ibuprofen, Vitamin E, St. John's Wort, garlic, and green tea extract.
Procedure
The majority of the tummy tucks performed at La Jolla Plastic Surgery and Dermatology are outpatient procedures. A tummy tuck can take anywhere between two and five hours. The length of time will depend on the type of tummy tuck performed.
Anesthesia: We will administer anesthesia to prevent discomfort during the procedure. Most tummy tucks are performed while the patient is under general anesthesia, although local anesthesia with sedation, or conscious sedation, may be an option.
Incision: A full tummy tuck will require an incision between the belly button and the pubic hairline that runs from hip to hip. A second incision around the belly button is made to preserve the natural location of the navel. A mini-tummy tuck will require a shorter incision in the pubic area. An extended tummy tuck will require a longer incision along the circumference of the treated regions, including the flanks and lower back. The skin is then separated from the underlying abdominal tissues and lifted as a flap.
Tightening of Abdominal Muscles: Once Dr. Chaffoo has access to the abdominal muscles, he will place reinforcing sutures to pull the separated abdominal muscles together. This process will result in a slimmer waistline and a flatter abdomen.
Excess Skin Removal: After the abdominal muscles have been tightened, Dr. Chaffoo will pull the skin downwards past the incision point. The excess skin will be trimmed and the belly button inserted into a new opening. He will place sutures to secure the redraped skin in place and close the incisions, including around the belly button.
Recovery
After the procedure, we will release you to your designated caretaker, who will drive you home and assist during this crucial part of your recovery. They will need to stay with you in the first 24 hours after your surgery, and provide additional help with household chores and childcare in the days following. Dr. Chaffoo will prescribe medication to manage discomfort, and you'll need to wear an abdominal binder to control swelling and help shape the healing abdominal region. Dr. Chaffoo may also have placed drains to collect excess fluid and reduce swelling, and you'll be given instructions on how to care for them until they are removed at one of your follow-up appointments. Most patients are able to return to work and other daily activities 4-6 weeks after their procedure, although those who have undergone an extended tummy tuck may need longer to recover.
Results
Over the next few weeks, as you heal and swelling and bruising improve, you'll begin to see your results emerge. Final results typically become visible 6 months after surgery. Be patient! You'll be able to look forward to a flatter, more toned abdomen and an overall slimmer midsection. If you maintain a healthy lifestyle, you'll be able to enjoy your results for many years.(2)
Corresponding & Complementary Procedures
Many of our patients benefit from abdominal contouring as part of a mommy makeover. While a tummy tuck will address the abdominal concerns that typically arise after pregnancy, many women also have other areas of their bodies that they would like to improve. Mommy makeovers can be tailored to a patient's unique goals, and many of the popular procedures can be performed during the same surgery. As well as abdominoplasty, Mommy Makeover choices include the following:
Cost of a Tummy Tuck in La Jolla, CA
The cost of a tummy tuck will vary based on a number of individual factors. We will be glad to provide an estimate following your consultation. Call now or complete an inquiry form to set up an appointment.
La Jolla: (800) 373-4773
San Diego: (619) 633-3100
Newport Beach: (949) 996-9964
Beverly Hills: (877) 923-7546
References
Ramirez, A.E., Hsieh, T.Y., Cardenas, J.P., Lao, W.W. Abdominoplasty: My Preferred Techniques. (2021). Annals of Plastic Surgery. 86(3S Suppl 2):S229-S234, https://www.ncbi.nlm.nih.gov/pmc/articles/PMC7969168/.
Regan, J.P., Casaubon, J.T. Abdominoplasty. [Updated 2022 Jul 25]. In: StatPearls [Internet]. Treasure Island (FL): StatPearls Publishing; 2022 Jan-. Available from: https://www.ncbi.nlm.nih.gov/books/NBK431058/.