Tummy Tuck
Consultations offered at our four convenient locations in La Jolla, San Diego, Newport Beach and Beverly Hills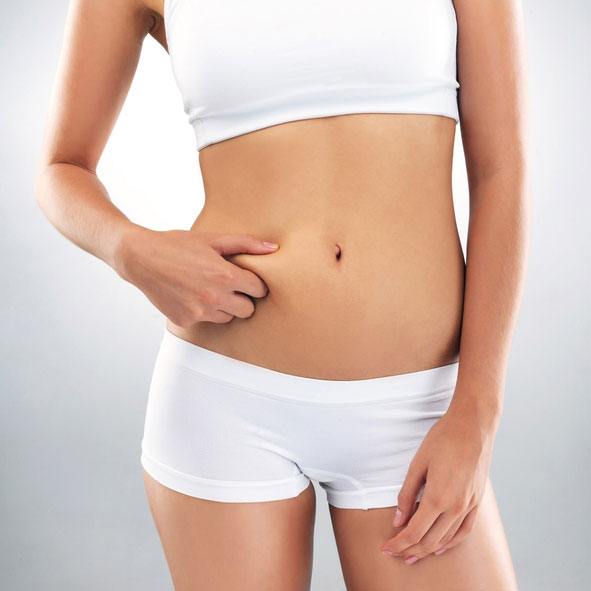 The tummy tuck procedure is extremely popular; nationally, the procedure's one of the top five plastic surgery treatments in the United States. Also known as abdominoplasty, tummy tucks allow San Diego patients — especially those with a noticeable "bell shape" — to improve the appearance of a protuberant abdomen by tightening stomach muscles and reducing excess fat and skin.
Benefits
For many women, excess skin hanging loose and sagging around the abdomen and lower belly can be distressing. In addition to causing disproportion in your figure, it can make it difficult to wear certain clothing comfortably. Popular reasons to undergo a tummy tuck include to correct damage to the skin and muscles following pregnancy, to trim away excess skin after significant weight loss (with or without surgery), and to help lift and tighten an area that may not be responding to exercise or diet. Additional benefits of a tummy tuck include:
Improved posture
A slimmer, smoother, and more youthful figure
Reduced back pain (in certain patients)
Ideal Candidate
Abdominoplasty is intended for patients with significant skin laxity, looseness, and sagging around the midsection. It is an integral part of the "mommy makeover" procedure and considered an intimate and delicate surgery. It may not be ideal for everyone, so, for some, a tummy tuck may seem like more than you need to achieve your physical and aesthetic goals.
If that's the case, you may want to consider the non-invasive, non-surgical fat reduction treatment called CoolSculpting. You demand the best from yourself. At La Jolla Plastic Surgery & Dermatology™, Dr. Chaffoo demands the best as well — from himself, from his staff, and always for you.
Considerations
If you're considering a body contouring plastic surgery procedure in La Jolla such as a tummy tuck, Triple board-certified plastic surgeon Richard Chaffoo, MD, FACS, FICS, can help. Dr. Chaffoo has the experience and the expertise to help you realize a narrower waist and a firmer stomach. He has an office conveniently located close to you on Genesee Avenue in La Jolla on the Scripps Memorial Hospital Campus at the Ximed Medical Center.
Request your cosmetic consultation online or call (858) 304-7139 for an appointment. At your consultation, he will share with you the options for producing a more flattering midsection. He will also discuss in detail what to expect with your San Diego tummy tuck, including:
Whether you would benefit from a partial (mini-tummy tuck) or a complete procedure, (as well as explain the difference between the two)
The surgical technique specific to your anatomy
Both the size and the location of incisions
Recovery, and
Risks associated with tummy tucks
Procedure
A tummy tuck is a safe and effective surgical procedure, taking just 1 to 2 hours for the mini-tummy tuck and 3 to 5 hours for the complete version. During your procedure, Dr. Chaffoo will tighten the vertical muscles of your stomach by pulling them closer together. Additionally, he will remove sagging skin. Liposuction is also an option to reduce excess fat. You can discuss the approach and techniques that are best for you during your consultation with Dr. Chaffoo.
Once the excess skin is removed, the upper abdomen tissue is pulled taut and a new opening for the belly button is created. Finally, he will place catheters to minimize any discomfort and shorten your recovery time. All stitches dissolve, so there's no removal later. While scarring is to be expected, Dr. Chaffoo takes care to make incisions along the natural curves of the body, so most scares can be hidden behind your bikini line. You will want to inform Dr. Chaffoo in your consultation if you plan to get pregnant in the future.
Recovery
After your procedure, you will have to follow care instructions and take some time to relax and recover during the healing process. This can help you recover faster and reduce the risk of severe scarring. While recovery rates vary, most patients are cleared to return to work 2 to 4 weeks following their tummy tuck, with patients with more extensive correction taking up to 6 weeks.
It is important to plan ahead before scheduling this surgery, as you'll have to take an extensive break from household chores and may need help caring for small children. An abdominal binder will need to be worn, which will help reduce swelling and promote healing. The recovery procedure will vary for everyone, especially if other services are performed. Breast augmentation is often combined with a tummy tuck in a procedure known as a "Mommy Makeover."
Risks
Abdominoplasty or tummy tuck is considered major elective surgery and all the risks should be considered and thoroughly discussed when deciding if the procedure is right for you. It is an intimate and delicate surgery and should be customized to suit the individual needs of each patient. Some risks associated with the procedure include:
Anesthesia risks
Infection
Fluid accumulation
Skin damage or change in sensation, such as numbness
Skin discoloration and/or hematomas
Fat necrosis
Deep vein thrombosis, cardiac and pulmonary complications
Results
Following surgery, your results may not be immediately visible due to swelling, bruising, and bandages. This will start to subside on its own. The results of a tummy tuck procedure will start to become visible within a few weeks, with full results coming in around six months after the initial surgery.
If you combine your tummy tuck with a breast enhancement or other treatments, you may not see full results for up to a year. San Diego tummy tuck patients will check in with Dr. Chaffoo during the healing process, at which time they can talk about how they are healing and what can be expected from their results.
Expectations
A tummy tuck is an excellent solution for patients who are struggling with loose, sagging skin that falls away from their bodies. Typically, patients find that this skin does not respond to traditional toning methods, such as exercise or dieting.
For these patients, a tummy tuck may be ideal. However, patients must already be at a good, stable weight in order to be eligible for this procedure. An abdominoplasty, similar to liposuction, cannot be used as a weight-loss technique. It is common for patients to opt for this procedure following bariatric surgery, however.
FAQ
Can I Combine a Tummy Tuck With Other Procedures?
During your consultation, Dr. Chaffoo will discuss all of the surgical options available to you to reach your optimal goal. For example, abdominoplasty may be combined with other procedures, such as breast augmentation, breast lift, or liposuction – this combination is known as a Mommy Makeover.
Does Insurance Cover My Tummy Tuck?
It is always recommended to check with your health provider about your coverage options. Typically, tummy tucks are not covered by medical insurance. However, payment and financing options are available for your convenience.
Dr. Chaffoo is triple board-certified and an experienced plastic surgeon who understands that belly button placement is crucial to seeing natural-looking results. Many of our patients discover that their belly button often looks better than before surgery.