Botox
Consultations offered at our four convenient locations in La Jolla, San Diego, Newport Beach and Beverly Hills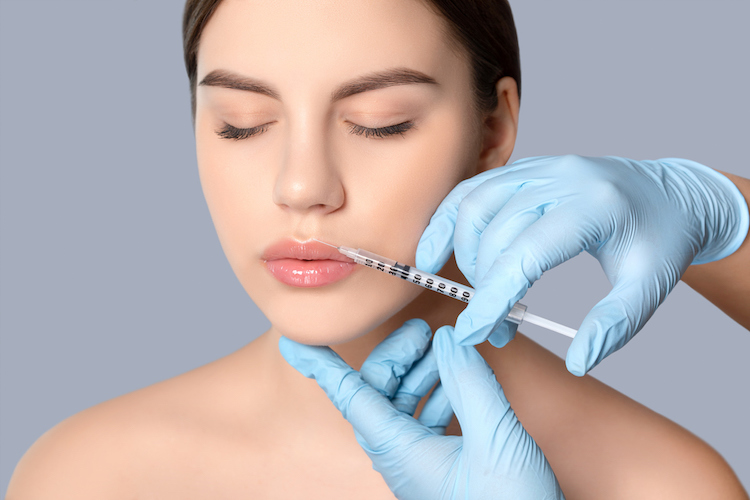 At La Jolla Skin in San Diego Botox injections helps women and men significantly diminish signs of aging on the face such as furrows, crow's feet, and laugh lines. Dr. Susan Stuart's patients are enjoying looking the way they look now, only younger. What's stopping you from looking and feeling better than you have in years?
Dr. Stuart strives to deliver the best botox San Diego has to offer and has helped thousands of men and women through quick, simple Botox injections to achieve a more youthful look, the kind that family, friends, and colleagues can't help but compliment. And it's their little secret. She can help you too.  Request a complimentary consultation  today or call (800) 373-4773 to schedule your appointment.
Procedure
Botox is the brand name of a particular formulation of botulinum toxin-A that is used to treat age-related effects in the skin but can be used to address other medical and cosmetic conditions as well. Botox is the most popular neuromodulator on the market, and millions of treatments are performed in the USA each year.
The first applications of botulinum toxin to cosmetic issues were pioneered by the California doctor Dr. Richard Clark in Sacramento in the late 1980s. He received FDA approval to experiment with the use of botulinum toxin-A on wrinkling present in cosmetic surgery patients and achieved significantly positive results. Further research was conducted by Drs. Jean and Alastair Carruthers, who conducted the first clinical study observing the use of botulinum toxin-A on otherwise healthy individuals for the cosmetic treatment of wrinkles.
Botox Pioneer
Interestingly, our own Dr. Stuart helped carry out some of these clinical trials as a partner for the original FDA studies of Botox early in her career. Subsequently, Botox was approved by the FDA for use in cosmetic procedures in 2002.
Considerations
Botulinum toxin works by blocking the means of nerve activation in muscles. In an unregulated situation, this obviously can be dangerous. But when properly applied in a controlled scenario, it can strategically paralyze only the muscles underlying the skin that create wrinkles.
When you express various emotions, the muscles being used create creases in the skin. Think of how your skin changes when you frown, worry, laugh, or smile. If you did these expressions just once, they would not form wrinkles. But over time, repeated use and the effects of aging on your skin cause the temporary or "dynamic" wrinkles to become permanent or "static" — becoming visible even when you're not making that particular expression.
This is where Botox comes in. By immobilizing the muscles that cause wrinkles — but not the muscles that convey emotion — Botox prevents these wrinkles from being reinforced and allows your skin the extra time it needs to heal. Thus, Botox can provide wrinkle relief both immediately and over the long term.
Benefits
Botox is a very versatile drug capable of addressing a variety of beauty concerns. Do you have any issues with your appearance like these?
Wrinkles and fine lines
Forehead creases
Crow's feet
Frown lines
"11's" lines
"Bunny" lines
Smoker's lines (or perioral lines)
It can provide effective treatment to many non-wrinkle-related conditions as well. These can include:
Sagging eyebrows
Gummy smile
Muscle spasms, including eye twitching and dystonia
Migraines
Excessive sweating (hyperhidrosis)
Botox Revolution
Botox has revolutionized non-surgical anti-wrinkle treatments. Botox can effectively diminish crow's feet, laugh and frown lines, and other dynamic wrinkles caused by facial movement. With continued use, this FDA-approved injectable can even completely smooth out some fine lines and wrinkles.
At La Jolla Skin, BOTOX is used to treat dynamic wrinkles in the following areas:
Near the eyes, such as crow's feet
Across the forehead, such as horizontal frown lines
Around the mouth, including lip lines
Around the neck, including neck bands
When the muscles in these areas contract — whether it's due to squinting, frowning, puckering your lips, or another repetitive movement — the skin wrinkles. Over time, these wrinkles become deeper and more defined. To visualize this process, imagine a piece of paper being folded over and over again. Botox works by relaxing the muscles that cause this movement, allowing the skin to lie flat and undisturbed for an extended period of time. By allowing the muscle and skin to rest, the look of wrinkles is reduced.
Botox is made from a purified form of botulinum toxin type A. Injections, especially when administered by a qualified professional such as Dr. Stuart, are safe, reliable, and repeatable. Since the FDA approved Botox injections in 2002, millions of treatments have been safely administered across the country.
Ideal Candidate
Ideal candidates for Botox treatments include anyone who wants help dealing with aesthetic and lifestyle issues like these:
Wrinkles around the eye ("crow's feet")
Undereye wrinkles
Forehead creases ("worry lines")
Creases along the brows ("frown lines")
Asymmetrical brows
Lip lines
Wrinkles around the nose ("bunny lines")
Smoker's lines (perioral lines)
Downturned mouth
Enlarged jaw muscles
Lines on the chin
Banding of the neck
Muscle spasms, including twitching eyelids
Migraines
Excessive sweating (hyperhidrosis)
No matter your aesthetic complaint, Dr. Stuart and her team will work with you to design a customized treatment plan that fits your condition, goals, and lifestyle.
Botox For Men
Men are increasingly enjoying the benefits of Botox. They are turning to this powerful wrinkle treatment to achieve a younger, healthier look, as well as for the treatment of migraines, muscle spasms, and excessive sweating. Sometimes dubbed "brotox," male patients are embracing it as a means of looking and feeling their best. In fact, Botox treatments have consistently been the most popular form of cosmetic treatment sought out by men for the past several years.
While women still dominate the injectables world, men are utilizing the treatment more and more. In fact, more than 500,000 treatments are performed on American men each year. The reasons?
Career — Men often report that their motivation for using Botox is to retain a competitive edge against younger coworkers. It's no secret that our society values youth, so many men rely on Botox to give them the younger appearance to keep them relevant in the workplace.
Popular Culture — Cultural standards often drive our expectations of attractiveness for everyone. The prevalence of social media and the ubiquity of dating apps can also motivate men to use Botox to look their best online.
Relationships — Many men say that they are driven to seek out Botox treatments thanks to the encouragement of their partner. A desire to look and feel their best for their significant other can be a powerful motivation for pursuing cosmetic procedures.
Treatments
At La Jolla Skin, your treatment starts when Dr. Stuart gently cleanses your skin. She then applies a topical anesthetic for your comfort during the procedure. Dr. Stuart uses very fine needles, and most San Diego botox patients feel only a minor sting during the injection, a sensation comparable to an insect bite. Your botox treatment can last for as little as 10 minutes, so you can schedule a lunchtime treatment, fit one in while you're out running errands, or stop by on your way home from work.
Because Dr. Stuart is a dermatologist, she can also help you with all of your skin care needs and may suggest additional treatments to prevent skin damage and address your current skin care issues. For San Diego patients, Botox is also an excellent treatment to combine with microdermabrasion or Fraxel® to give patients an overall facial rejuvenation that keeps them looking and feeling younger than ever before.
Testimonial
Recovery
Because Botox injections are so simple and easy, returning to work or normal social activities is no problem immediately following treatment. You should keep your head elevated for at least 4 hours after the treatment and avoid rubbing or touching the treatment area. This allows the product to disperse properly for more consistent results. Rarely, slight bruising or swelling may appear at the injection site. Using a cold compress can reduce this effect.
While experiences vary, Botox results are usually visible within 3 to 5 days of treatment and results typically last for up to 3 months. Once you see your treated wrinkles begin to reappear, you may make an appointment for a touch-up treatments to maintain your results as long as you'd like. If regular treatments are continued, your results may last longer between treatments. Dr. Stuart can help you better understand the results you can expect during your first visit.
You won't believe the results you can achieve until you see them for yourself. Request a complimentary consultation online or call Dr. Stuart now at (800) 373-4773 for all of your skin care needs.
Xeomin®
XEOMIN is very similar to BOTOX, but may be preferable for certain individuals. Like Botox, the active ingredient in XEOMIN consists of a purified form of botulinum toxin type A, but XEOMIN is free of some of the additives in BOTOX. It temporarily relaxes the facial muscles that cause noticeable lines and wrinkles on the brow (glabellar lines) and around the eyes (crow's feet) to take years off your appearance. Dr. Stuart or her colleague, Dr. Chaffoo, will evaluate your aesthetic needs and your history with other products to determine the best treatment plan for you.
Botox Or Fillers?
Which to choose depends on each person's unique body, lifestyle, and goals. Fillers can be preferred when volume loss is a concern in addition to wrinkle relief. In some cases, the results from a treatment using fillers can last longer than with Botox, but this depends on the scope of the procedure and the patient's lifestyle. During your complimentary consultation, Dr. Stuart and her team will work with you to determine which is the best course of action for your condition and needs.
FAQ
Am I A Good Candidate For Botox?
During your complimentary consultation with Dr. Stuart, she will discuss your concerns about Botox. There are few contraindications pertaining to Botox, but it is vital to provide Dr. Stuart with a complete medical history and include a history of keloid scars, specific neuromuscular disorders, allergies to any of the Botox ingredients, or active infections of any kind. This treatment is not available to pregnant or breastfeeding women.
How Much Does Botox Cost?
Dr. Stuart tailors your unique Botox treatment plan to offer you the best results for your aesthetic goals. The cost for Botox injections will vary with each patient, based on the number of units needed and the number of treated areas. Dr. Stuart will provide an overall breakdown of your treatment costs and recommend a maintenance plan for optimal results.
When Will I Start To See Results?
With Botox, you can start to see results immediately. The muscle-numbing effects begin with the injections, so your skin will usually already appear smoother right after your treatment. However, the full results will come in several days to a couple of weeks as your skin is allowed to heal and revitalize itself without the strain of wrinkle-causing muscle contractions.
Will I Look Expressionless After Botox?
When your treatment is performed by a highly-qualified professional like Dr. Stuart and her team at La Jolla Skin, you have minimal risk of an expressionless result. Thanks to their training in the most advanced injection techniques, only wrinkle-causing muscles are targeted, while the muscles involved in expressing emotions are left unaffected. It is true that less reputable and skilled providers can leave you unable to emote properly, but Dr. Stuart makes every effort to ensure that she and her staff are among the best in the business.
How Long Do The Results From Botox Last?
On average, Botox results last around four months, but they can be seen for up to six months in some cases. Treatments with neuromodulators like Botox have the advantage of actually increasing in efficacy with repeated use in many cases.
Is Botox Safe?
Botox has advanced tremendously since it was first introduced more than 30 years ago. Botox is considered extremely safe when administered by a qualified provider. When it isn't, badly done injections result in side effects like headaches, paralysis of unintended muscles, and flu-like symptoms. Before your treatment, Dr. Stuart will thoroughly discuss the potential risks with you.
What Happens If I Stop Getting Botox?
Generally, all that happens is that the effects wear off. The healing accomplished while the Botox was active will eventually be undone, and your skin will ultimately show wrinkles again. However, you should not experience any adverse effects after discontinuing treatments other than the normal wrinkling and aging process.
Are There Botox Alternatives?
Yes, and in your one-on-one with Dr. Stuart, she will discuss your injectable options. While Botox is one of the leading cosmetic muscle relaxants, it is not your only option. At La Jolla Plastic Surgery & Dermatology, we offer all three of the most popular anti-wrinkle injectables. Learn more about Botox, Xeomin, and Dysport in your complimentary consultation and let Dr. Stuart determine which is suitable to meet your needs.