Blepharoplasty
Consultations offered at our four convenient locations in La Jolla, San Diego, Newport Beach and Beverly Hills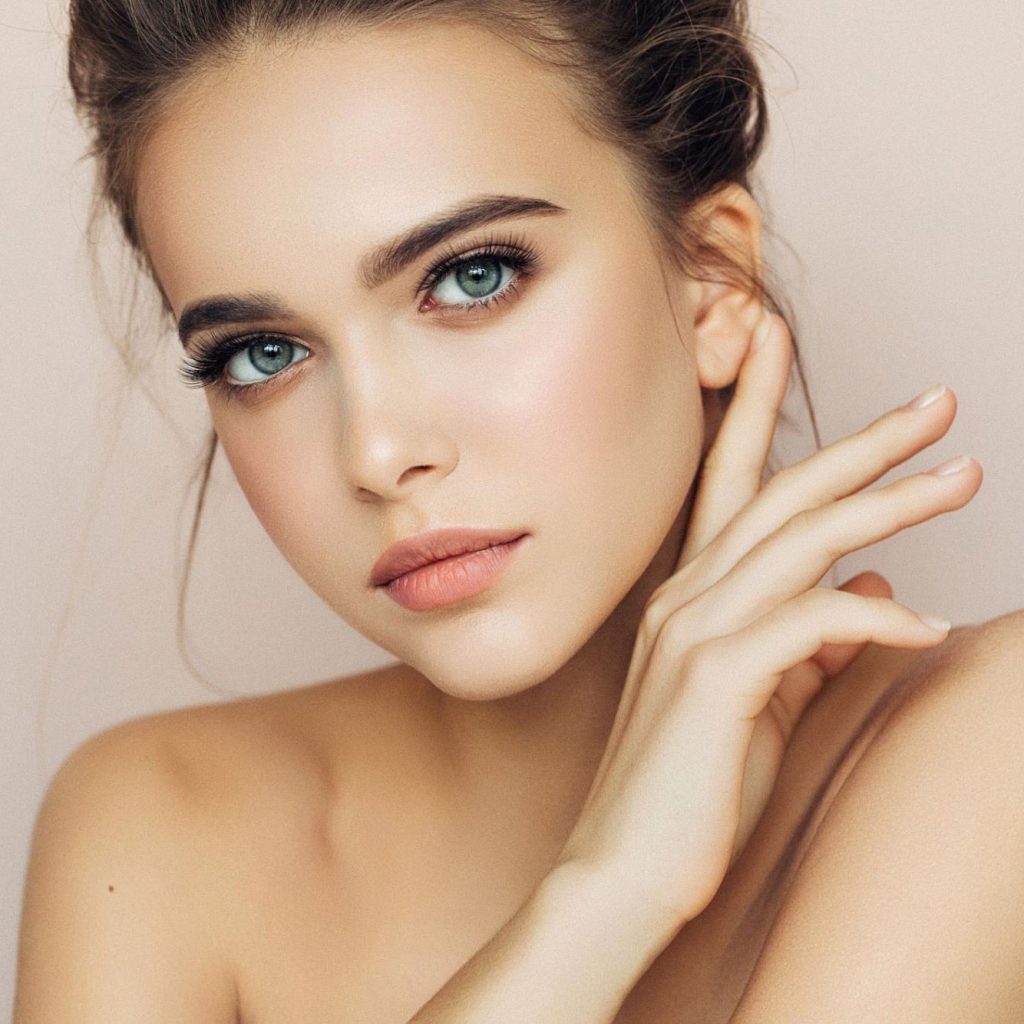 The Eyes Have It
Blepharoplasty is a cosmetic surgical procedure that involves the removal of excess skin and fat from the eyelids, as well as the tightening of the surrounding muscles, to improve the appearance of the eyes and reduce signs of aging. As we age, the skin around our eyes can become lax, leading to sagging eyelids, bags under the eyes, and wrinkles. These changes can give the impression of being tired, angry, or sad, even when we feel perfectly fine. If aged, tired eyes have replaced a once youthful look, you may not like what you see, but there's good news! Eyelid surgery at La Jolla Plastic Surgery & Dermatology can reverse the clock and deliver the best blepharoplasty San Diego offers.
If you're considering a facial sculpting procedure in La Jolla, such as blepharoplasty, plastic surgeon Richard Chaffoo MD, FACS, FICS can help you understand the risks and rewards. Dr. Chaffoo is part of a small group of triple board certified plastic surgeons certified by the American Board of Plastic Surgery, the American Board of Otolaryngology (Head and Neck Surgery), and the American Board of Facial Plastic & reconstructive Surgery. Dr. Chaffoo has an office near you on Genesee Avenue in La Jolla on the Scripps Memorial Hospital Campus at the Ximed Medical Center. Contact La Jolla Plastic Surgery & Dermatology to request your cosmetic consultation. Patients can reach out online or call (858) 304-7130 for an appointment. We look forward to seeing you!
About Blepharoplasty
If you are bothered by sagging or drooping eyelids or if you have bags under your eyes that make you look tired or older than you are, blepharoplasty can help. Removing the excess skin and fat around the eyes can open up the eyes and the entire face, making the eyes appear brighter and more alert and the face more youthful and rested. According to the American Society of Plastic Surgeons, blepharoplasty is one of the most common cosmetic surgical procedures in the United States, with over 325,000 procedures in 2020 alone. [1]
The area around the eyes plays a crucial role in facial beauty by displaying youthfulness and a wide range of expressions. However, the skin around the eyes is thinner and more delicate than the skin on other parts of the body. It contains fewer oil glands, collagen, and elastin fibers, which provide elasticity and support to the skin. As a result, it is more vulnerable to damage from environmental factors like UV rays, pollution, and stress, as well as the effects of aging. The delicate skin around the eyes also tends to show the earliest signs of aging, such as:
Fine lines
Wrinkles
Sagging skin
Therefore, it requires extra care and attention to keep it looking youthful and healthy. For many people, these changes can significantly impact their self-esteem and confidence. They may feel ashamed of their appearance, and this can affect how they interact with others, both professionally and socially.
Dr. Chaffoo's Technique
In the past, traditional blepharoplasty procedures typically involved the removal of both loose skin and muscle, as well as excess fat. However, this often resulted in a sunken, unnatural appearance that made patients look older than they were. [2] Additionally, this approach could accelerate the aging process over time. 
On the other hand, Dr. Chaffoo's periorbital rejuvenation techniques are much more conservative and rely on a thorough preoperative assessment. These methods involve only minimal removal of the desired soft tissue around the eye, helping to restore a more youthful and natural appearance.
What are the Benefits of Blepharoplasty?
The benefits of blepharoplasty go beyond just aesthetics. In some cases, the procedure can even improve a patient's eyesight by removing excess skin that may obstruct their vision. This can lead to clearer, brighter vision. Also called dermatochalasis, excess skin around the eyes can cause heaviness and fatigue in the eyelids, making it difficult to keep the eyes open. Blepharoplasty can provide relief from these symptoms and allow patients to feel more comfortable and alert throughout the day. Additionally, the procedure can enhance the face's overall appearance, giving patients a more youthful, refreshed look. With proper care and maintenance, the results of blepharoplasty can be long-lasting and boost a patient's self-confidence and sense of well-being.
Candidates
Most healthy adults can undergo blepharoplasty safely. You may be a good candidate for this procedure if you have droopy eyelids, puffiness, or bags under the eyes.
However, if you are pregnant, have drooping eyebrows, dry eyes, or have an eye infection, you may not be a good candidate for eyelid surgery. It is rare to experience complications from blepharoplasty, but if they do occur, they are typically mild and temporary. [3] Most of the complications associated with blepharoplasty are either temporary, can be eliminated with antibiotics, or can be corrected by Dr. Chaffoo. 
Personal Consultation
During the consultation, Dr. Chaffoo will ask about your medical history and any medications or supplements you take; this is important because certain health conditions and medications can increase the risk of complications during and after the procedure. Additionally, he will evaluate your facial structure and skin quality to determine the best approach for your eyelid lift, whether it's an upper eyelid lift, lower eyelid lift, or a combination of both. Dr. Chaffoo will also consider your goals and expectations for the procedure and work with you to develop a personalized treatment plan that addresses your unique concerns.
The consultation is an opportunity to ask questions about the procedure, including recovery time, potential scarring, and post-operative care. We will provide instructions on preparing for the procedure and what to expect during recovery. Dr. Chaffoo will discuss any potential risks and complications associated with the procedure. By the end of the consultation, you should clearly understand the procedure, its benefits and risks, and whether it's the right choice for you.
Call for a consultation today! Reach us at (858) 623-6333 or online.
Preparation
To ensure a smooth and successful blepharoplasty procedure, patients can take several important steps to prepare.
Arrange for a family member or friend to drive you home from the cosmetic surgery center and remain there for the first few days, as you may require help around the house.
You should plan to take time off work or other obligations to allow for proper rest and recovery.
Obtain any necessary prescriptions or supplies ahead of time, such as pain medication or special ointment for the eyes.
By following these steps and working closely with the La Jolla Plastic Surgery & Dermatology team, patients can ensure a safe and successful blepharoplasty procedure with excellent results.
Procedure
Upper Eyelid Incisions
For the upper eyelids, incisions are typically made along the eyelids' natural creases. This approach allows Dr. Chaffoo to carefully remove excess skin and tissue while camouflaging the scars within the natural crease of the upper lid. Additionally, the incisions are typically placed in a way that preserves the natural shape and contour of the eyelid, ensuring that the final results look natural and beautiful.
Lower Lid Incisions
For the lower lids, incisions are made directly below the lashes. Lower eyelid surgery also allows for the surgery to be performed from the inside of your lids to eliminate visible scarring.
Once the incisions are made, Dr. Chaffoo separates the skin from the fat and muscle underneath:
Extra fat is reduced
Excess skin and muscle are trimmed away
Incisions are closed
The procedure takes one to three hours to perform. As the anesthesia wears off immediately following your eyelid surgery, it's common for your eyelids to feel stiff and possibly even ache. Should you require it, Dr. Chaffoo will provide pain medication to reduce any discomfort you might feel. A cold compress helps as well. During this time, a team of experienced nurses will carefully monitor you for potential complications.
Recovery After Eyelid Surgery
Throughout your recovery, you will occasionally meet with Dr. Chaffoo so that he can review your progress. Of course, between these appointments, you can contact your Patient Coordinator if you have any questions or concerns. Experiences vary after eyelid surgery; however, most men and women in San Diego experience minimal discomfort following their eyelid surgery. Besides getting your beauty rest, you should avoid doing much the first week after eyelid surgery while avoiding strenuous activities for three to four weeks.
Recovery: The First Few Days
For the first few days, to minimize bruising, it is recommended that you keep your head elevated. Soon after your eyelid surgery, you'll return to visit Dr. Chaffoo so that the stitches can be removed. At this time (approximately 48 hours following surgery), swelling should noticeably subside, although patient experiences vary.
Any lingering bruising can be concealed with makeup. It is common for patients to report dry eyes and an itchy or burning sensation; eye drops can alleviate these temporary side effects of eyelid surgery. Additionally, your eyes might exhibit a greater sensitivity to San Diego's sunny weather during the first few weeks, and you might experience a temporary mild blurring of your vision. Most of Dr. Chaffoo's patients return to work after seven to ten days, feeling relaxed and refreshed.
Recovery: 10 to 14 Days After
You are advised not to wear contact lenses for the first 10 to 14 days following blepharoplasty. Also, before going outside, you should apply sunblock, and when you leave home, please wear sunglasses.
What are the Results of Blepharoplasty?
Brighter eyes that greet the world with a more youthful and alert appearance are among the most noticeable and satisfying results of a successful blepharoplasty procedure. Patients often report feeling more confident and self-assured following the surgery, with some even stating that they feel as if they look years younger.
Additionally, because the eyes are such an important aspect of facial expression and communication, many patients find that the surgery positively impacts their overall quality of life, improving their interactions with others and enhancing their overall sense of well-being.
Patients with obstructed vision can also experience a significant improvement in their visual function following blepharoplasty.
Corresponding & Complementary Procedures
Many San Diego blepharoplasty patients combine eyelid surgery with another procedure, such as a brow lift or facelift, for additional facial rejuvenation. At your consultation, Dr. Chaffoo will discuss in detail his surgical technique based on several variables, including the state of your eyelid, any wrinkling, and your basic bone structure.
What is the Cost of Blepharoplasty in San Diego?
The cost of your procedure is included in the consultation appointment discussion. Patients should call (858) 623-6333 to get started!
FAQ
What are the risks of blepharoplasty?
Complications with eyelid surgery are rare, but some risks include bleeding at your incision sites, infection, and difficulty closing your eye.
Does eyelid surgery hurt?
Side effects will minimize in five to seven days. You can manage any discomfort with over-the-counter medications and cold compresses if needed.
Are there non-surgical eyelid options?
Non-surgical options depend on your aesthetic goal. A popular treatment on the rise is non-surgical Blepharoplasty, which involves Botox and dermal fillers that offer the look of an eye lift without surgery. However, remember that the non-surgical option is not permanent, and maintenance treatments are needed to maintain results.
References
American Society of Plastic Surgeons. (2021). 2020 Plastic Surgery Statistics Report. Retrieved from https://www.plasticsurgery.org/documents/News/Statistics/2020/plastic-surgery-statistics-full-report-2020.pdf
Rohrich RJ, Coberly DM, Fagien S, Stuzin JM. Current Concepts in Aesthetic Upper Blepharoplasty. Plastic and Reconstructive Surgery. 2004;113(3):32e. https://doi.org/10.1097/01.PRS.0000105684.06281.32
Patrocinio TG, Loredo BAS, Arevalo CEA, Patrocinio LG, Patrocinio JA. Complications in blepharoplasty: how to avoid and manage them. Brazilian Journal of Otorhinolaryngology. 2011;77(3):322-327. https://doi.org/10.1590/s1808-86942011000300009