Breast Lift
Consultations offered at our four convenient locations in La Jolla, San Diego, Newport Beach and Beverly Hills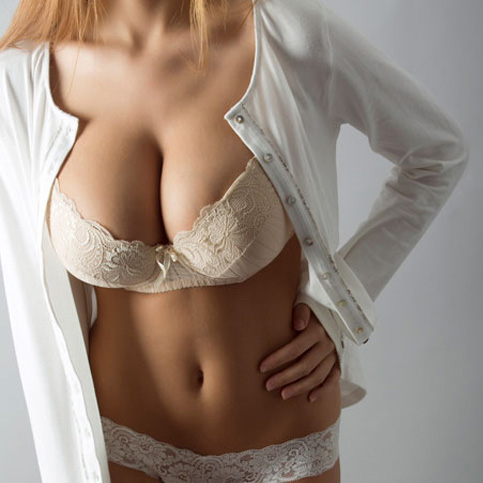 The fact is natural, youthful looking breasts aren't always a product of good genes. Sometimes they're the result of a simple procedure known as a breast lift. Breast enhancement doesn't necessarily mean a lot of downtime or discomfort. When performed by an experienced plastic surgeon, a breast lift can deliver incredible, balanced results that help you feel more confident. Another thing you might have noticed is you're younger than a lot of the women you see around town, and yet they're wearing the kinds of swimsuits or outfits you wouldn't dare wear, the type you haven't worn since your first pregnancy. By almost any woman's definition, these women look fantastic.
Now you know their secret — plastic surgery. You had your suspicions — it is San Diego after all — but their breasts just looked so natural, and you don't see any scarring! Breast enhancement can do that. In particular, a breast lift can help you achieve a natural, perky look without the need for implants or fat transfer. This procedure is especially popular among women who have naturally fuller breasts, but have seen them lose elasticity and lift throughout multiple pregnancies, breastfeeding, or simply with age. Get the facts on breast lift and learn how it can benefit you for years to come by contacting San Diego plastic surgeon Richard Chaffoo, MD, FACS, FICS. Request your complimentary cosmetic consultation online.
Before and After Photos
Procedure
As you age, your skin slowly begins to sag due to the effects of gravity. This is an unfortunate fact of life. Breasts especially lose their youthful volume and shape when the effects of gravity combine with the effects of giving birth, hormonal changes, and weight fluctuations. Fortunately, there's hope for those who want to experience how the other half lives here in La Jolla and San Diego. Breast enhancement, specifically a breast lift (mastopexy), can gently give your breasts a boost and in the process, your self-image can soar.
Triple board certified plastic surgeon Dr. Chaffoo has the experience and the expertise to not only give your sagging breasts a lift, but when combined along with breast augmentation, also restore lost volume. At your breast lift consultation, he will share with you the options for restoring fuller, more youthful looking breasts, including a surgical technique developed in Europe in which your own breast tissue is used as a natural breast implant to lift the breast. Patients also have the option to reposition a sagging nipple and restore a more youthful shape without increasing either volume or cup size.
Consultation
When you visit our La Jolla office for your breast lift consultation with Dr. Chaffoo, he will discuss in detail what to expect from your procedure including:
Whether a mammogram or other work-up will be necessary prior to your breast lift
Whether an implant is needed and if so, the type/style of implants
Surgical technique specific to your anatomy
Both the size and location of incisions
Recovery
Risks associated with breast enhancement
Risks
Here in San Diego, a breast lift is usually conducted under general anesthesia. The procedure takes just 2 to 3 hours, during which Dr. Chaffoo removes lax skin. Additionally, your nipple and areola are repositioned higher to deliver a symmetrical finish. Although the procedure can help the breasts be firmer, shapelier and more youthful looking, it does not make them larger, so many women elect breast implants to restore lost volume. Either way, side effects should start to diminish after just 1 to 2 weeks, although this timeframe may vary.
Ideal Candidate
Ideal candidates for a breast lift include patients who are in good general health and stable weight. Older patients, mothers, and women who have naturally pendulous breasts often seek out the procedure to help them achieve a more flattering bust. Those who have sagging or drooping breasts that are naturally voluminous or full are the best candidates for a mastopexy. It is important for San Diego breast lift patients to have realistic expectations and understand that a breast lift won't help them regain lost volume or fullness unless the procedure is combined with breast augmentation.
Considerations
Women can get a breast lift at any age after their breasts finish developing, but it is often recommended for patients who have experienced the side effects of aging, which include gravity, sagging, and skin laxity. Patients can also get the procedure before pregnancy, although it is very popular among mothers who have seen their body change after children. If you are considering a breast lift, but aren't sure it is the right type of breast enhancement for you, feel free to schedule a complimentary consultation with Dr. Chaffoo.
Benefits
Like many plastic surgery procedures, a breast lift can deliver incredible results to those who are unhappy with their breast sagging. In addition to helping you achieve a perkier, lifted bust, mastopexy surgery can offer patients:
Enhanced self-image and confidence
A more flattering figure in certain clothing
Reduced chafing and irritation under the breast
Tighter, smoother skin
Improved nipple positioning
Recovery
Following your breast lift procedure, patients will need to take some time away from responsibilities to comfortably recover. As mentioned, side effects such as swelling, redness, and tenderness will start to diminish significantly after the first week or two. During this time, drains may be used, bandages will need to be worn, and some type of compression garment may be advised. Patients will need to sleep on their back with some elevation to ensure proper draining. Cold compresses and ice packs can be used for 20 minutes at a time on the areas around the incisions to help reduce inflammation, as well.
Depending on each patient's unique needs, Dr. Chaffoo may recommend specific instructions to help aid your recovery period. Patients will need to avoid lifting their arms above their head for a short period, so washing your hair is recommended before the surgery. The results of your breast lift are immediate, but you must first wait for the incisions to heal and swelling to go down to truly be able to appreciate the way your bust looks. For most patients, the full results will be visible after six to twelve weeks. If you're considering a breast lift or any other type of breast enhancement, San Diego plastic surgeon Richard Chaffoo, MD, FACS, FICS can help. He has an office conveniently located close to you on Genesee Avenue in La Jolla on the Scripps Memorial Hospital Campus at the Ximed Medical Center. Request your complimentary cosmetic consultation online or call (858) 304-7090 for an appointment.
FAQ
Does a Breast Lift Hurt?
At La Jolla Plastic Surgery & Dermatology, we strive to deliver the best breast lift San Diego has to offer and we pride ourselves on offering high-quality services that help patients look and feel their very best. While plastic surgery is considered a major operation, we do our best to help patients remain comfortable during the procedure. To ensure no pain or discomfort is felt during the surgery, general or local anesthesia will be administered. Most patients remain asleep during the procedure. Following the breast lift, you will feel some soreness and tenderness around the breasts. This typically subsides within the first two weeks.
Can I Combine Breast Lift With Other Procedures?
Absolutely! One of the most popular procedures offered at La Jolla Plastic Surgery & Dermatology is a breast lift with an implant, as this can help deliver a fuller, rounder bust that is youthful and perky. You can also opt to use donor fat from another area of your body, such as the stomach or thighs, to use as a filler for your breasts. This is called a fat transfer, and can also be combined with a mastopexy to deliver a more balanced result. To learn more about the procedures you can combine with a breast lift to deliver a beautifully enhanced bust, please schedule a complimentary consultation with Dr. Chaffoo.
How Much Does a San Diego Breast Lift Cost?
Breast lift surgery is considered an elective procedure, which means it is generally not covered by health insurance. The final cost of any procedure at La Jolla Plastic Surgery & Dermatology will depend on many factors, such as facility, operating, anesthetic, and surgeon fees, as well as your unique needs and type of surgery desired. Many patients who opt to combine their treatments will find this affects the final cost, as well. To help accommodate our patients comfortably, we accept various payment methods and financing options.