Breast Lift
Consultations offered at our four convenient locations in La Jolla, San Diego, Newport Beach and Beverly Hills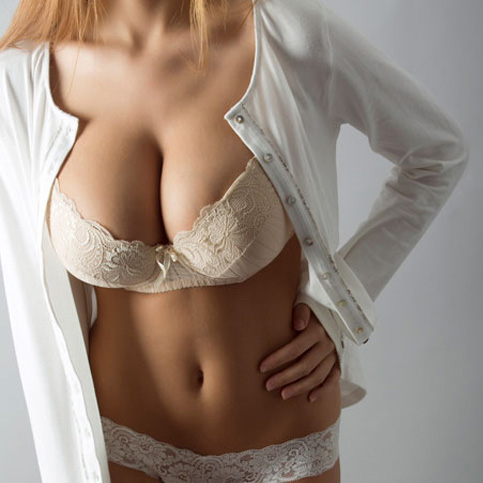 A breast lift is a procedure that can restore the appearance of perky, youthful, firm breasts, regardless of whether good genes are in play. It's a quick and relatively comfortable way to enhance your breasts' shape. When done by a qualified plastic surgeon, the results can be stunningly natural-looking–almost like wearing an invisible bra! You might have noticed that some women look great in swimsuits or outfits you would never dare to wear. It turns out their secret is plastic surgery. If you suspect breast enhancement might help you achieve the same natural, perky look, a breast lift may be your best bet. The procedure can create a gorgeous lift in breasts that have lost elasticity and shape due to pregnancy, breastfeeding, or aging.
Schedule a complimentary consultation at La Jolla Plastic Surgery & Dermatology with San Diego plastic surgeon Dr. Richard Chaffoo, MD, FACS, FICS, to learn more about breast lift surgery and how it can benefit you. Dr. Chaffoo is a highly experienced, triple-board-certified plastic surgeon specializing in breast lift procedures. He has performed countless surgeries, helping patients achieve youthful and lifted breast contours that enhance their natural beauty. Dr. Chaffoo is known for his patient-centered approach, using the latest surgical techniques to create customized treatment plans that meet each individual's unique needs and goals. Call (858) 623-6333 or contact us online today to request an appointment in La Jolla, San Diego, Newport Beach, or Beverly Hills.
From skincare tips and product reviews to in-depth articles about the latest cosmetic treatments, the La Jolla Plastic Surgery & Dermatology blog is a go-to resource for anyone who wants to look and feel their best.
Before and After Photos
About Breast Lift
A breast lift, or mastopexy, is a surgical procedure designed to raise and reshape sagging breasts. Over time, breasts can lose their firmness and shape due to
Pregnancy
Breastfeeding
Weight fluctuations
Aging
According to recent statistics from the American Society of Plastic Surgeons, breast lifts have increased by 70% since 2000, surpassing breast implants by a ratio of 2-to-1. [1] This indicates a growing trend of women opting for breast lifts to achieve a more youthful and lifted appearance rather than relying solely on implants. The trend suggests that more women seek natural-looking results that enhance their breast tissue rather than simply adding volume.
Furthermore, while breast implants can add volume to the breasts, they do not address sagging or drooping breasts. In fact, in some cases, implants can exacerbate the appearance of sagging by increasing the weight of the breasts. The nipples and areolas may also stretch, elongate, or point downward as the breast tissue gives in to gravity. A breast lift can help to correct these issues by repositioning the breasts and nipples to a higher and more youthful position on the chest. Instead of incisions to place implants, the incisions allow Dr. Chaffoo to remove excess skin and reshape the natural breast tissue. Patients love that the procedure allows them to show off their natural-looking breasts and even go bra-less.
What are the Benefits of Breast Lift in San Diego?
In addition to providing a perkier, more lifted bust, mastopexy surgery can offer several benefits to patients, including:
Enhanced self-image and improved self-confidence, which can have a positive impact on overall quality of life.
A more flattering figure, especially in certain types of clothing such as swimsuits and low-cut tops.
Reduction of chafing and irritation that can occur under the breasts, particularly in warmer weather.
Tighter, smoother skin on the breasts, which can improve the overall appearance of the chest.
Improved size, shape, and positioning of the nipples as they may have become stretched or elongated over time or after breastfeeding with multiple pregnancies.
No risk of capsular contracture, which can be a side effect of breast implants. [2]
These benefits can be life-changing for women who feel self-conscious or unhappy with the appearance of their breasts.
Candidates For Breast Lift in Beverly Hills
The ideal candidates for this procedure are women in good general health who maintain a stable weight and have realistic expectations about the results.
Breast lift is especially popular among
Older patients
Mothers
Women with naturally pendulous breasts
These women often experience sagging or drooping breasts that can detract from a complete and positive body image.
Women can get a breast lift at any age after their breasts finish developing. Still, it is often recommended for patients who have experienced the side effects of aging, which include gravity, sagging, and skin laxity. Patients can also get the procedure before pregnancy, although it is very popular among mothers who have seen their body change after children.
However, it is important to note that breast lift alone cannot increase breast volume or fullness. Women who desire a more significant increase in breast size may need to consider combining a breast lift with breast augmentation using implants or fat transfer techniques.
If you are considering a breast lift, but aren't sure it is the right type of breast enhancement for you, feel free to schedule a complimentary consultation with Dr. Chaffoo.
Personal Consultation
For many women, discussing the appearance of their breasts can be a delicate issue, and they may feel embarrassed or ashamed about seeking cosmetic surgery. At La Jolla Plastic Surgery & Dermatology, we understand that each woman's concerns and goals are unique and personal, and we approach every consultation with sensitivity and compassion.
Dr. Chaffoo and our team of experts are committed to creating a comfortable, non-judgmental environment where you can openly discuss your concerns and expectations. During your consultation, we will take the time to listen to your story, assess your current breast appearance, and discuss your ideal outcome. Dr. Chaffoo will also explain the breast lift procedure, including potential risks and complications, and answer any questions.
We know cosmetic surgery is a significant decision, and we want our patients to feel confident and well-informed every step of the way. That's why we offer complimentary consultations to help you explore your options and make the best decision for your unique needs and goals. Call (858) 623-6333 for a consultation in our La Jolla, San Diego, Newport Beach, or Beverly Hills offices.
Preparation
Before your procedure, Dr. Chaffoo will provide detailed instructions on how to prepare for your surgery. This may include
Avoiding certain medications and supplements that can increase the risk of bleeding
Stopping smoking at least 6 weeks before surgery
Arranging for someone to drive you home and assist you during the first few days of recovery
It's natural to feel nervous before surgery, but Dr. Chaffoo and his team will take every step necessary to ensure your comfort and peace of mind.
The Procedure
In San Diego, a breast lift is usually conducted under general anesthesia. The procedure takes 2 to 3 hours, during which Dr. Chaffoo removes lax skin using one of the following incision methods. Dr. Chaffoo will discuss which incision type is best for you based on the degree of lift required and the amount of excess skin present.
The periareolar incision is made around the areola's border. This incision is typically used for patients who require a mild to moderate lift.
The vertical incision extends from the areola's bottom to the breast crease. This incision is used for patients who require a moderate to significant lift.
In cases where a more extensive lift is needed, Dr. Chaffoo may use the anchor incision, which includes the periareolar and vertical incisions and an additional incision along the breast crease. Although this incision leaves more scarring, it allows for a greater degree of lift and reshaping of the breast tissue.
With the periareoral incision, Dr. Chaffoo uses a lateral extension technique to reduce the risk of bottoming out, a complication that can occur after breast lift surgery where the breast tissue drops too low on the chest wall. This modification is designed to improve the procedure's long-term stability and aesthetic outcome. [3]
Recovery After Breast Lift
Following your breast lift procedure, patients must take time away from responsibilities to recover comfortably. Side effects such as swelling, redness, and tenderness will diminish significantly after the first week or two. During this time, drains may be used, bandages must be worn, and some type of compression garment may be advised. Patients should sleep on their backs with some elevation to ensure proper draining. Cold compresses and ice packs can be used for 20 minutes on the areas around the incisions to help reduce inflammation.
Depending on each patient's unique needs, Dr. Chaffoo may recommend specific instructions to help aid your recovery period. Patients will need to avoid lifting their arms above their heads for a short period, so washing their hair is recommended before the surgery.
What are the Results of Breast Lift in San Diego?
The results of your breast lift are immediate, but you must first wait for the incisions to heal and the swelling to go down to appreciate them fully. The final results will be visible for most patients after six to twelve weeks. You will love how your perky, lifted breasts look and feel, giving you renewed confidence and a youthful silhouette!
Can I Combine Breast Lift with Other Procedures?
At La Jolla Plastic Surgery & Dermatology, one of the most sought-after cosmetic surgeries is the breast lift with implants. This procedure can give patients fuller, rounder breasts that are more youthful and perky. Additionally, a fat transfer from another body area, such as the stomach or thighs, can be used as a natural filler for the breasts, combined with a breast lift for a more balanced result. The additional benefit is an improvement in the contour of your abdomen, hips and waistline since the fat is removed from these areas using advanced liposuction techniques. If you want to learn more about the various procedures that can be combined with a breast lift to enhance your bust, Dr. Chaffoo offers informative consultations to discuss your options.
What is the Cost of a Breast Lift in San Diego?
Since breast lift surgery is an elective procedure, health insurance typically does not cover it. The procedure cost at La Jolla Plastic Surgery & Dermatology can vary based on several factors, including facility, operating, anesthetic, and surgeon fees, as well as the specific needs and type of surgery desired. Combining multiple treatments may also impact the final cost. To make the procedure more accessible for patients, we offer different payment methods and financing options.
If you're considering a breast lift or any other type of breast enhancement, San Diego plastic surgeon Richard Chaffoo, MD, FACS, FICS, can help. He has an office close to you in San Diego, Beverly Hills, La Jolla, or Newport Beach. Request your complimentary cosmetic consultation online or call (858) 623-6333 for an appointment.
References
American Society of Plastic Surgeons. American Society of Plastic Surgeons. American Society of Plastic Surgeons. Published 2019. https://www.plasticsurgery.org/cosmetic-procedures/breast-lift
Headon H, Kasem A, Mokbel K. Capsular Contracture after Breast Augmentation: An Update for Clinical Practice. Archives of Plastic Surgery. 2015;42(5):532. https://doi.org/10.5999/aps.2015.42.5.532
Klinger M, Vinci V, Giannasi S, et al. The Periareolar Approach: All Seasons Technique for Multiple Breast Conditions. Plastic and Reconstructive Surgery Global Open. 2021;9(7):e3693. https://doi.org/10.1097/GOX.0000000000003693