Mini Facelift
Consultations offered at our four convenient locations in La Jolla, San Diego, Newport Beach and Beverly Hills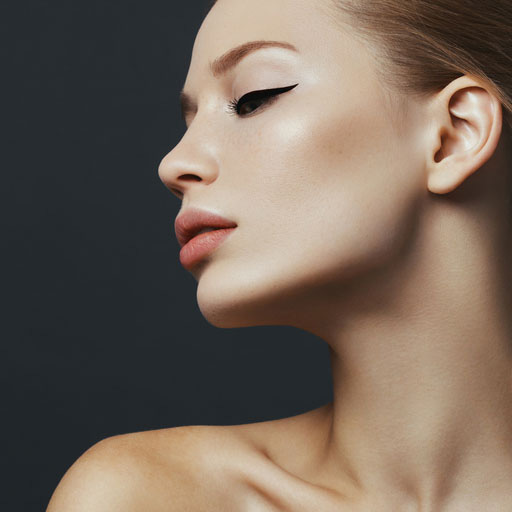 aka – Non-surgical Facelift
Many men and women come to visit us at La Jolla Plastic Surgery & Dermatology™ because they are considering facial rejuvenation, but some aren't ready for surgery. Procedures ranging from laser skin treatments to injections of BOTOX® Cosmetic offer patients from throughout the San Diego area excellent results without the downtime or cost of a surgical procedure. When we combine these treatments into a "non-surgical facelift," the results can be impressive.
If you're noticing early signs of aging and want to refresh your appearance through non-surgical facial rejuvenation,  request your complimentary cosmetic consultation at our San Diego-area office, or call us at (858) 304-7130 to schedule an appointment with triple board-certified plastic surgeon Dr. Richard Chaffoo.
Ideal Candidate
Dr. Chaffoo and board-certified dermatologist Dr. Susan Stuart perform advanced non-surgical skin care and anti-aging treatments that result in healthier, younger-looking skin for a wide range of patients. The best candidates for non-surgical treatments tend to be people who believe they look older or more tired than they feel inside, but whose skin is still fairly supple and shows minimal sagging. If you have begun to notice age or sun spots, wrinkles around your face, sunken cheeks, or a general loss of firmness in your facial skin, our non-surgical facelift treatments may suit your needs.
These treatments may also be a good choice if you have had facial surgery in the past and are beginning to notice the return of some signs of aging. Many patients find they can maintain the good results of a surgical procedure such as a facelift or eyelid surgery for many extra years thanks to non-surgical enhancements.
Treatment Options
Dr. Chaffoo and Dr. Stuart can evaluate your skin and recommend which of our innovative treatments would work best as components of your non-surgical facelift. Advances in laser- and light-based cosmetic procedures have made these excellent choices in recent years. We may recommend that patients combine laser treatments with injectables, such as BOTOX and JUVÉDERM®, at our La Jolla clinic to complete their transformation. Explore your laser and injectable options below.
Laser Treatments
Precision Tx™ is a minimally invasive option that uses laser energy to improve the appearance of the lower face by both reducing excess fat and tightening the skin. Dr. Chaffoo inserts a laser through tiny incisions and targets the area beneath the chin and along the jawline, creating a sleeker profile.
The Fraxel® laser system smoothes wrinkled and weathered skin through a series of treatments that spurs the growth of collagen, which helps give skin with a tighter, more youthful look. Dr. Stuart's expertise with these comfortable laser treatments ensures you get excellent results. It typically takes 4 to 8 sessions spaced about a month apart for optimal results.
Intense pulsed light (IPL) treatments target fine facial lines, along with visible veins, discoloration, and general redness, using light energy to trigger collagen growth. The high-intensity light bursts are a comfortable way to target many common signs of age. As with the Fraxel laser, it takes several IPL sessions to achieve the best results.
Injectable Treatments
BOTOX Cosmetic injections are the most popular cosmetic procedure performed each year in the U.S. BOTOX reduces forehead wrinkles, crow's feet around the eyes, and the horizontal lines between the brows often called "worry lines." When administered by a skilled injector such as Dr. Stuart, BOTOX injections target specific nerves that control the movement of facial muscles that we use to make expressions. BOTOX works by temporarily minimizing these movements while still preserving your natural look.
Hyaluronic acid (HA) fillers complement BOTOX injections by smoothing wrinkles and restoring volume to areas around the mouth and under the eyes. JUVÉDERM, BELOTERO BALANCE®, and Restylane® are the most popular HA fillers available. Combining fillers with BOTOX can give patients a refreshed appearance that will last for months or even years with periodic fine-tuning.
JUVÉDERM VOLUMA® XC treatments are one of the most recent fillers added to our selection of anti-aging treatments. VOLUMA XC is the first filler approved by the FDA to treat lost volume in the cheeks, one of the most noticeable signs of aging. VOLUMA XC is thicker than other fillers and is injected deeper than other products, giving the mid-face a lifted appearance. It has been clinically shown to last up to 2 years.
Sculptra® Aesthetic treats nasolabial folds and other wrinkles by replacing collagen lost as a person ages. Unlike JUVÉDERM and many other fillers, Sculptra is made from a synthetic material called poly-L-lactic acid, a material that's been used for decades. Rather than simply fill areas, Sculptra stimulates collagen growth to restore the skin's supporting structure.
If you've had facelift surgery in the past from another surgeon before the advent of the advanced techniques that are now available, you may have been left with some tell-tale signs of previous "work" that bother you. Are scars that used to be hidden in your hairline beginning to show? Does your hairline seem higher than it used to be? With new methods of hair restoration, San Diego patients can have their hairlines restored to a new, lower, younger-looking location. Talk with Dr. Chaffoo about your options for hair restoration at La Jolla Hair Surgery Center.
If you're considering non-surgical facial rejuvenation in La Jolla such as a mini-facelift, plastic surgeon Richard Chaffoo, MD, FACS, FICS can help. Dr. Chaffoo is among a select group of plastic surgeons certified by the American Board of Plastic Surgery, the American Board of Otolaryngology (Head and Neck Surgery) and the American Board of Facial Plastic and Reconstructive Surgery.
Benefit from his unique training and his extensive, two decades worth of real world experience. Dr. Chaffoo has an office conveniently located close to you on Genesee Avenue in La Jolla on the Scripps Memorial Hospital Campus at the Ximed Medical Center.

You demand the best from yourself. Dr. Chaffoo demands the best as well — from himself, from his staff and always for you.