CoolSculpting
Consultations offered at our four convenient locations in La Jolla, San Diego, Newport Beach and Beverly Hills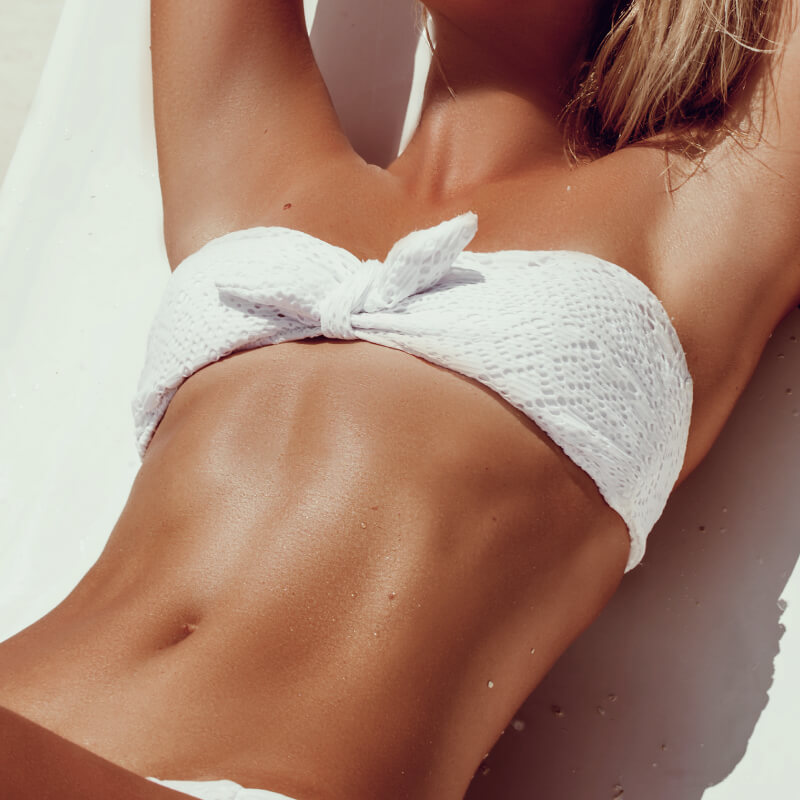 People from all walks of life are choosing to slim down without surgery with CoolSculpting. In San Diego and Southern California, it's a great choice for reducing stubborn fat, since it does not interfere with your active lifestyle. And with a variety of treatment options, you can target fat all over the body, from a double chin to stubborn thigh fat.
Get the slimmer body and contoured neckline you desire without surgery. Request your complimentary cosmetic consultation online, or call (858) 304-7130 to schedule an appointment.
Why Choose CoolSculpting?
Your first step will be a detailed consultation with Dr. Chaffoo or Dr. Stuart. They will listen to you, assess your goals, educate you about the CoolSculpting procedure, and develop an individual treatment plan specifically for you. If more extreme fat reduction is necessary, Dr. Chaffoo may determine whether liposuction or even a tummy tuck is better suited to your needs.
It's inevitable that the average person will develop unwanted pockets of fat that are seemingly impossible to conquer through diet and exercise. CoolSculpting is a simple solution that has helped countless women and men gain the thinner, trimmer body contours and profile they desire without surgery.
Because we are one of the largest CoolSculpting practices in San Diego, featuring the full range of CoolSculpting applicators, we can effectively treat multiple areas of the body:
Abdomen
Flanks (love handles)
Back
Bra fat
Armpits (front and back)
Inner arms
Inner & outer thighs
Chin
Buttock (banana roll)
Chest (gynecomastia)
Lateral chest wall
Knees
Pelvis
Procedure
Few plastic surgeons boast triple board certification. The fact that La Jolla plastic surgeon Dr. Chaffoo is a member of this elite group demonstrates his commitment to excellence. Although CoolSculpting is non-surgical, it is still considered a medical procedure, as well as an aesthetic procedure that requires an artistic eye.
Additionally, thanks to our enduring commitment to high-quality CoolSculpting results, manufacturer ZELTIQ® has named La Jolla Skin a Premier Crystal CoolSculpting practice. By choosing Dr. Chaffoo's practice for CoolSculpting, you can be assured of quality care as well as the peace of mind that comes from knowing your treatment is under the direction of a highly qualified and skilled physician.
Treatment
CoolSculpting is cleared by the FDA as a safe and effective treatment for reducing fat on the abdomen — the areas typically referred to as love handles or muffin tops — and the thighs. During the treatment, a gel pad is applied to the treatment area followed by the CoolSculpting applicator. The applicator for the midsection uses gentle suction to draw the skin and underlying tissue up into the cooling area. The thigh applicator, designed specifically for "non-pinchable" areas of fat, is strapped around the leg with cooling plates pressed firmly against the skin.
Using a carefully monitored temperature that affects fat but does not damage surrounding tissue, the device cools fat cells to a point at which they become damaged and die.1 The patient will experience a sensation of firm pressure, and at first, the area may feel cold until the body tissues adjust to the temperature change. During the procedure, which may last from 35 minutes to 3 hours, depending on the number and location of the treatment areas and whether the procedure incorporates enhancements such as DualSculpting or CoolAdvantage, the patient can lean back and relax, read, or listen to music.
Treatment Areas
While the CoolSculpting treatment itself proceeds in essentially the same manner no matter what stubborn fat we are targeting, there are some adjustments that need to be made for the specific region of the body. For example, the abdomen is a larger surface area than the chin, of course. Additionally, some areas of fat are "pinchable" (e.g., back fat), while others are not (e.g., inner thigh fat).
The CoolSculpting device uses a variety of applicators to adjust for these differences and deliver an equally effective result for any targeted area of the body.
Applicators
CoolAdvantage
CoolAdvantagePlus
CoolMini
CoolSmoothPro
CoolMax
CoolCore
CoolFit
CoolCurve
CoolCurve+
CoolMini
In particular, the accumulation of fat under the chin — called submental fat — is one of the most common aesthetic concerns for both men and women. A double chin can be caused by genetic factors or age and, like other stubborn pockets of fat, can't be reduced simply through changing your eating habits or exercising. The CoolMini applicator is uniquely designed to treat double chins and other small areas where fat accumulates, such as the knees or under the arms.
Cleared by the FDA, the applicator's size and curved shape fits snuggly under the chin and reduces fat using the same groundbreaking technology used to contour larger areas of the body. The CoolMini applicator is the only non-invasive treatment for double chins that reduces fat without the downtime or excessive swelling seen with other procedures.
CoolAdvantage
For patients looking to treat the abdomen, flanks, or inner thighs, our CoolAdvantage applicator cuts the treatment time nearly in half, from an hour down to just 35 minutes. There's an enhanced cup design that allows us to treat larger areas more efficiently, without sacrificing what matters most: your comfort and safety.
DualSculpting
We strive to deliver the best CoolSculpting San Diego has to offer, so patients who wish to have 2 areas treated (e.g., both flanks) can do so in half the typical time, because we have 2 CoolSculpting machines that can operate simultaneously.
This means we are able to treat both sides of the body at the same time, which gets you in and out quicker, so you can get back to your day sooner.
Recovery
Women and men can typically return to normal activities immediately following a CoolSculpting treatment, although patient experiences vary. Many people have CoolSculpting during their lunch hours and return to work the same day. Some redness, swelling or bruising may follow the procedure, along with some numbness or tingling, but these effects are temporary.
Individual experiences vary after CoolSculpting treatments. A thinner appearance typically begins to become visible as soon as 3 weeks after treatment and continues to reveal itself during the following few months. A clinical study found that "treatment resulted in a normalized fat layer reduction of 20.4% at 2 months and 25.5% at 6 months after treatment."
FAQ
How Do Treatments Differ by the Area of the Body?
In essence, every treatment follows the same pattern, regardless of where on your body the CoolSculpting device will be delivering treatment. The main difference is in the applicator we use, as each one is shaped for the unique contours and characteristics of a specific region.
What Does Treatment Really Feel Like?
Most San Diego CoolSculpting patients describe the treatment as being surprisingly comfortable. In the beginning, there is a feeling of intense cold and sometimes a prickly sensation, much like using an ice pack. Soon, though, the skin goes numb, and the rest of the treatment is very comfortable. Afterward, you might experience some discomfort, but most people find the recovery very tolerable.

Each applicator has a specific advantage. Some applicators are best for covering larger areas or cutting the treatment time from an hour to just 35 minutes; others are best for regions of "non-pinchable" fat. Rest assured that we choose the right applicator for your particular aesthetic goals based on what will cover the treatment area and provide efficient treatment.
How Much Does CoolSculpting Cost?
At our San Diego County practice, we price CoolSculpting by the area. The lower abdomen is considered a large area, and when treated on its own, costs $1,500. Small areas such as the hips, back, and inner thighs each cost $750 when treated alone. Treatment of the chin alone costs $1,000. Prices are usually lower when multiple areas are treated in one session.

With all of the possible combinations, we are unable to state-specific treatment costs on our website. The best way to get a specific price is to come in for a complimentary consultation with our Certified CoolSculpting Specialist. He will design a CoolSculpting treatment plan that addresses your individual goals and financial situation.
How Long is a Treatment Session?
A treatment session typically lasts about an hour per treatment area. We do have two CoolSculpting machines set up for people who wish to have two areas treated simultaneously (e.g., both inner thighs), cutting the overall treatment time in half versus practices that are limited to a single machine. It also helps ensure a more symmetrical result. This is commonly referred to as "DualSculpting."
Does CoolSculpting Help With Cellulite?
CoolSculpting is indicated for localized fat reduction, not necessarily for the improvement of cellulite. For individuals who are interested in reducing the lumpy, dimpled texture caused by cellulite, we offer Cellulaze.
Can I Get Multiple Treatments?
Yes, many of our patients book a few treatments to target multiple areas. You can also treat the same area more than once if you'd like to reduce fat even more.
What Does Being a Certified CoolSculpting Practice Mean?
Safety is paramount in every treatment we offer, so we take the standards set forth by ZELTIQ® — the manufacturer of CoolSculpting — very seriously. We have been named a Certified CoolSculpting Practice, which signifies that our treatment provider has completed the training program offered by ZELTIQ and is well-versed in how to perform an excellent treatment.

Beyond that, ZELTIQ also awards different statuses to top-performing practices who have successfully completed a large number of treatments, as a symbol of consistency and great results. La Jolla Skin is proud to be a Premier Crystal CoolSculpting practice.
How Many Pounds Can I Drop Using CoolSculpting?
Although CoolSculpting does help patients shed fat, most don't see a big difference on the scale. Good candidates are already close to their ideal weight and lead healthy lifestyles. CoolSculpting is meant to refine your body by helping you target areas that have proven too stubborn to tone with diet and exercise alone. We encourage our patients to think of results not in terms of pounds, but of inches.
Are There Side Effects From CoolSculpting?
During the procedure, patients may initially experience discomfort until the treatment area becomes numb. After treatment, temporary side effects may include mild redness, bruising, swelling, tenderness to the touch, cramping, itching, and tingling. Patients may experience numbness of treated areas that persists up to several weeks after treatment.
Which Areas Can Be Treated?
Chin, arms, abdomen, legs, inner and outer thighs, flanks, back, bra fat.
Is Anesthetic Used?
Not needed.
When Are Coolsculpting Results Noticeable?
Gradual slimming begins around 3 weeks and continues for 2 months.